Sony Tablet S Teardown Reveals Unique Hardware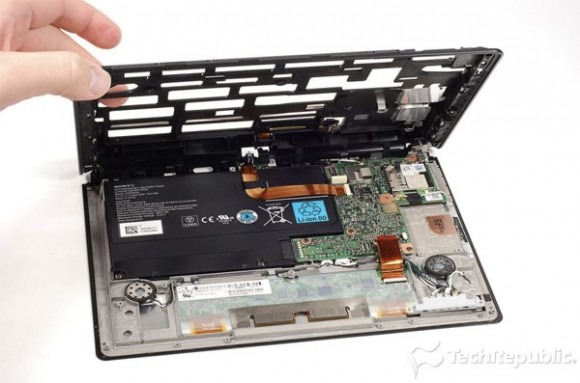 The Sony Tablet S has gotten the teardown treatment and its innards appear just as unique as the wedge-shaped exterior. Long rumored under the codename S1, the tablet recently launched as Sony's first Android slate and features a 9.4-inch display on a shape reminiscent of a folded back magazine, hence the wedge profile that's unlike any other tablet on the market.
Similar in specs to many other Android tablets, the Sony Tablet S boasts the NVIDIA Tegra 2 dual-core processor with 1GB of RAM. It sports a 0.3-megapixel front-facing camera, a 5-megapixel rear-facing camera with support for 720p HD video capture, and is available in 16GB and 32GB models.
But what makes it different upon teardown is an internal plastic frame that protects the inside components and makes the tablet more rigid. It also has several unique chips, including the UEI U122 remote control chip and the Audience earSmart A1026 Voice Processor. For the full teardown and components list, visit TechRepublic. But for our thoughts on the tablet, make sure to check out our full review.