Sony Simplifies Bootloader Unlocking For Xperia Devices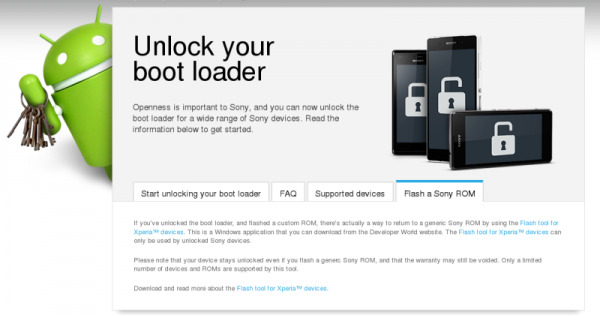 Sony made an announcement that should get developers and modders hearts a-thumping. Not only has it given its Unlock Boot Loader service web page a much needed facelift, making it easer for even beginners to go through the process, it has also finally added its latest Xperia devices to the roster of supported devices.
While majority of Android users will probably never mess around with their smartphones beyond installing apps and services, there is quite a number who will try to squeeze out as much as they can from a device by unlocking its full potential. For these class of power users, the journey mostly begins with unlocking the bootloader, which then enables them to install recoveries which, in turn, will let them flash firmware and apps to their heart's content.
Of all major Android device partners, Sony has the distinction of actually providing an official way to unlock users' devices. To be fair, Motorola does have one as well, but its list of supported devices pales in comparison with Sony's. To put it in another way, Sony's devices are potentially more developer friendly than other leading brands.
Sony's bootloader unlocking service isn't exactly new and has been around for quite some time now. However, the mass of instructions that faces a newcomer is quite daunting. In order to lessen the chances for error, Sony has somewhat simplified the process. In truth, it's actually the same process just distilled down to its most important steps and presented in an easy to digest step by step manner. You will still basically hand over Sony your IMEI as well as an e-mail address which they will use to send you an unlock code. Aside from the simpler process, Sony has also revamped the page to not only make it look prettier, but also present the important things upfront, like how to return to a stock Sony ROM after you've had your fun.
As a bonus, Sony has done something everyone has been waiting for. The Sony Xperia Z2 and Xperia Z2 Tablet are now included in the list of supported devices. Though numerous attempts have already been done to root these two and install custom ROMs, the official process was not yet acknowledged by Sony. Now, things have just gotten easier for those who want to take advantage of Sony's hardware and design but prefer a more vanilla or even more exotic Android flavor.
SOURCE: Sony