Sony 'Signature Series' audio devices include gold-plated Walkman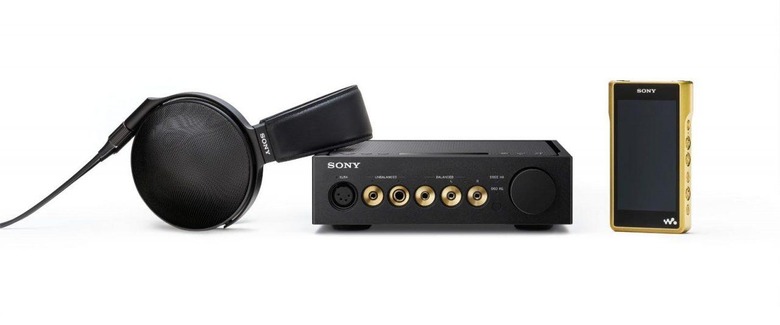 Sony has a new 'Signature Series' line of what it calls high-resolution audio devices. Counted among these new devices is the MDR-Z1R headphones, the NW-WM1Z and NW-WM1A Walkman devices, and the TA-ZH1ES headphones amp. All four devices are stylish, especially the NW-WM1Z Walkman with its gold-plated copper chassis. According to Sony, that design keeps down magnetic interference and contact resistance/oxidation.
Both the WM1Z and WM1A audio devices boast separate digital and analog circuitry, according to Sony, and both support high-resolution music formats, among the supported ones being 384kHz-32bit recordings and Quad 11.2MHz DSD when paired with applicable devices, the Z1R headphones being one of them. Users can choose between different DSEE-HX signal processing modes, of which there is "Female Vocal," "Male Vocal," "Percussion," "Strings," and "Standard."
Those MDR-Z1R headphones are designed for similar high-resolution audio enjoyment, featuring a 70mm magnesium dome HD driver that, says Sony, provides a frequency response up to 120kHZ. This is joined by an LCP edge diaphragm coated in aluminum as well as a neodymium magnet. Sony uses a resonance-free housing paired with an acoustic resister, while the headband is made from flexible beta titanium and leather, as are the ear cups. Unlike most headphones, the cable features a 4.4mm plug.
Of course, if you're aiming for audiophiles, you'll need a headphone amplifier, which is where the TA-ZH1ES comes in. Says Sony, this is the first headphone amp that has the ES brand, and it comes with a DA Hybrid Amplifier Circuit alongside the S-Master HX digital amplifier.
The amp includes support for "the vast majority" of high-resolution audio formats, according to the maker, including high-res PCM and DSD recordings.
Sony plans to launch the Signature Series audio devices this November, with the exception of the WM1A Walkman, which will launch some time early next year. The headphones will be $2,299.99 USD, the WM1R Walkman will be $3,199.99 USD, the WM1A Walkman will be $1,199.99 USD, and the headphone amp will be $2,199.99 USD.