Sony shows off new next-gen back-illuminated CMOS sensor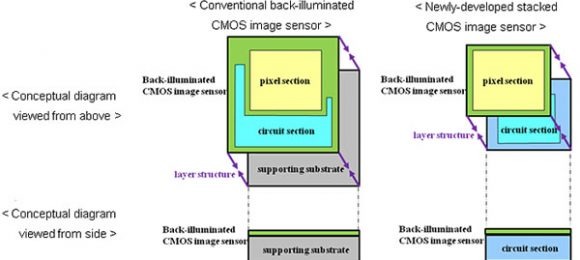 Sony has announced that it has developed a next-generation back-illuminated CMOS sensor to advance the digital camera genre. The construction of the new CMOS sensor layers the pixel section with the formations of back-illuminated structure pixels onto a chip that has the circuit section that processes signals. The layered chip lacks the normal substrate support that typical back-illuminated CMOS sensors use.
The layered structure allows the CMOS sensor to provide better image quality and functionality. The new sensor is also smaller and when the internal components get smaller, cameras can often get smaller as well. Sony is calling the development a stacked CMOS sensor. Another big feature of the chips is its ability to offer faster speeds and lower power consumption while increasing the image quality.
Sony notes that it developed the new sensor due to a demand for cameras that have more functionalities and are adaptable to a wider range of conditions. The stacked CMOS sensor will allow higher pixel numbers and a more compact size. Sony has used the sensor to build a camera already that has integrated signal processing; typically signal processing needs an external embedment according to Sony. The new CMOS sensor will start sampling in March.