Sony Reader set to get ads soon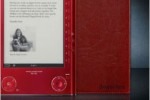 The Sony reader will soon be getting third-party advertisements, says Steve Haber of New Media Age. Apparently, this move will allow publishers to create a new revenue stream, despite a general decline in profits across other advertisements.
It's not clear when these new ads will start to make an appearance, but what is clear is that the Sony Reader, or the ebook reader in general, has not been utilized yet fully as a media form. That's why the advertising step is just the start of what could be possible with the platform.
The thinking is that since magazines and newspapers are built around ads already, it should be pretty easy to translate that into the ebook form. This could be very effective or it might just work to annoy people a whole bunch. I guess we'll just have to wait and see how it turns out.