Sony PSP GPS and Digital Camera Launched In Japan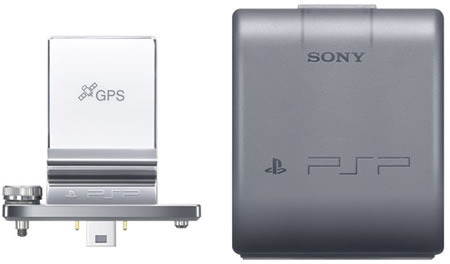 The Sony PSP add-on GPS is officially announced and launched in Japan. We've covered this product in a couple articles over the past week, so here's the official specs, courtesy of NaviGadget (they've gone through the trouble of translating the specs).
Product name: GPS receiver
Model name: PSP-290
Sale day: 2006 December 7th
Desired retail price: 6,000 Yen ($50)
Reception frequency: 1575.42MHz
Reception method: Channel 20
Reception sensitivity: – 153dBm
Capture: – 140dBm
Determination renewal time: Approximately 1 second
Determination precision: 5m (2DRAMS, – 130dBm)
External size: Approximately 45 x 10 x 7mm (width x height x depth)
Weight: Approximately 16g
Contents: GPS receiver, private case
This is a nice value added accessory that will turn your PSP into a full-featured GPS navigation system as well possibly using it in future games.
The PSP private GPS receiver you can enjoy in the Kousei detail and the large picture only of PSP due to the combination with the corresponding software. We propose the entertainment of the new genre which makes life pleasant presently at software manufacturer each company and this corporation navigation and the action which are in the midst of developing, with, the software of wide genre such as planetarium and golf from the real practical tool to the game.

The PSP private camera and the "GPS receiver" with the corresponding software this year September 22nd (the gold) from with Makuhari is held displays in the SCEJ booth of Tokyo game Show 2006.

640 x 480 or 480 x 272 pixels
1.3 megapixel sensor
Video recording is 480 x 272 pixels
30 fps with a limit of 15 seconds per clip in Motion JPEG
Supports audio recording via the mono microphone
Macro mode of 7 cms and digital zoom.
Measures 45 x 27 x x 16mm and weighs just 15 grams.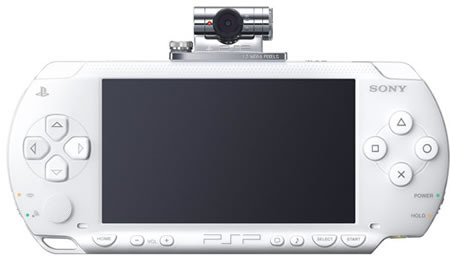 Sony PSP GPS Launched Press Release [via  NaviGadget and NewLaunches]