Sony Introduces Two New Handycam Models With Projectors At CES 2014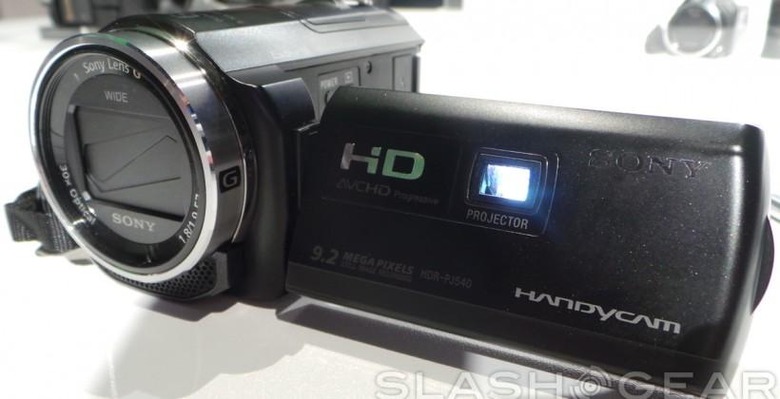 For shooting videos, nothing comes in handier than a small camcorder. For actually viewing those videos, nothing is more frustrating. We're often left to huddle around the small screen, or fumble with cables in an attempt to tether it to a TV or monitor. Sony has an interesting new take on viewing video, which we got the chance to check out at CES 2014. Their new lineup of Camcorders with projectors built right in seems like unnecessary novelty, but we're not so sure about that.
To start, their lineup of full HD camcorders are really nice offerings on their own. Optical Steady Shot and 60x zoom bring the best Sony has to offer in camcorder technology, and has all the Sony acoutremants like the BIONZ X processor and Exmor sensor. Bump up to the PJ540 from the PJ340 and you get a better viewfinder, 5.1 channel microphone, and lighting. Both models come with a 25-lumen projector, which Sony has cobbled into a camcorder before, but these are a step up from their previous offerings.

Projectors can be suspect, especially in such a small package, but Sony has a pleasant offering here. We displayed video up to about 10 feet away with no problem, but you shouldn't expect the best of both worlds with this one. The projector lacks things like focus we'd find with a standalone, but in such a small package, we're impressed nonetheless.
Sony tells us these will be available this summer, but you should probably be sure you need them. We're told the PJ340 will check in around $499, and the upgraded PJ540 will hit the $699 mark. Good camcorders in their own right, these are two that have the interesting projector added on, which is reflected in the price.