Sony HX850 BRAVIA Review (1080p 3D LED Internet TV)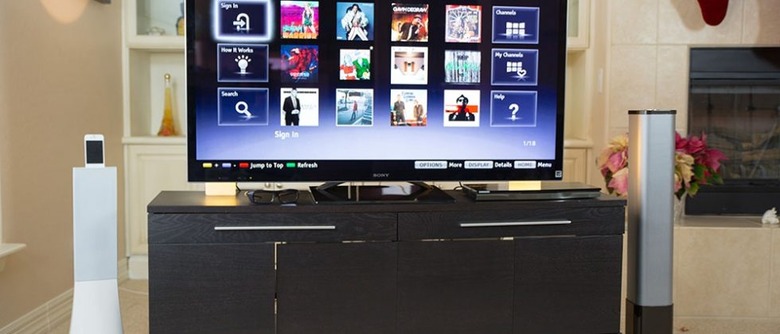 There was a time when Sony's BRAVIA TVs led the industry, and were the automatic first-choice for home entertainment enthusiasts. Little stays still in consumer electronics, however, and now Sony finds itself fighting Korean upstarts for the King of TVs crown. Into the fray wades the Sony BRAVIA HX850, on the SlashGear test bench in 55-inch form, and bearing a $2,500 RRP as well as a lengthy list of specs and abilities. Read on for our review.
Design
Sony's "monolithic design" tagline for the HX850 series isn't exactly the catchiest of slogans, and it doesn't really do the HDTV justice. It's certainly pared back: a sheet of toughened Corning Gorilla Glass – ideal for those accidentally-hurled-Wiimote moments – with a few chromed highlights around the edge, but nothing that would distract you from the picture quality.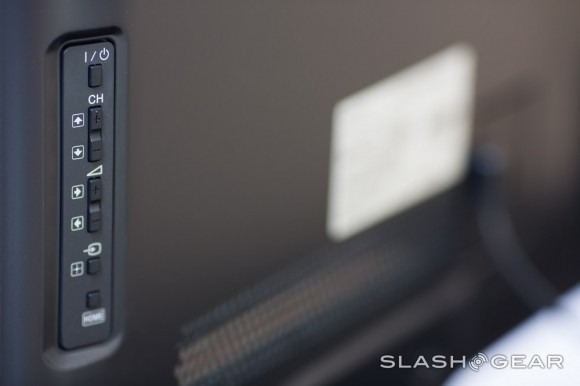 The default stand is a simple plastic affair, sturdy but uninspiring, though Sony also offers a premium stand which has integrated speakers and props the HX850 back at a slight angle. Alternatively, it can be wall-mounted, at which point the sleek lines begin to look even more appealing. Physical controls are limited to a single row of buttons hidden on the lower right side at the back: power, volume, channel, input, and menu.
Unlike Samsung's twin remote bundle and advanced voice-control system, Sony's remote control is an altogether more traditional affair. It's on the compact side, though isn't short on buttons, which means some of the keys are a little fiddly. They're also not backlit, which is something else Samsung does right.
Features and Connectivity
In general, though, the HX850's spec sheet leaves few boxes unticked. The edge-backlit LED display runs at 1080p resolution with a 240Hz refresh rate, and there's active 3D support though oddly Sony doesn't actually include any glasses in the box; instead you have to buy them yourself, from $49.99 apiece. Sony's X-Reality Pro Engine technology is implemented, which promises to analyze each frame of the picture in real-time, and tweak it to remove noise, increase sharpness, and optimize the color and contrast. Then there's Motionflow, which achieves that 240Hz refresh rate by calculating intermediary frames based on the likely color and movement of the source content frames either side of them.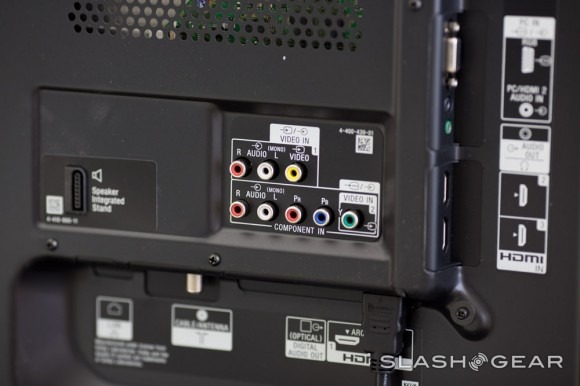 Connectivity includes four HDMI ports – two on the side and two on the bottom), two composite video (one of which can double as component video) both on the rear, two USB 2.0 ports on the side, an RF antenna connection on the bottom, three analog audio inputs (two on the rear; one on the side), a PC input (D-Sub), and an ethernet port. There's also an audio output on the side and a digital audio output on the bottom.
However, Sony has also equipped the HX850 with integrated WiFi b/g/n, meaning you can hook up to a network wirelessly and without having to plug in an external dongle as with some TVs. There's also support for Skype, with an optional camera (RRP $149.99) plugging directly into the HX850 and allowing you to make and receive video calls. The camera wasn't supplied for our review, however.
Smart TV
With both wireless and WiFi onboard, it comes as no surprise that the HX850 supports various streaming media features. If you have accounts with Netflix, Amazon Instant Video, Hulu Plus, or Sony's own Music Unlimited and Video Unlimited services, then you'll be able to stream TV shows and movies directly to the HX850 with no need for a computer in-between.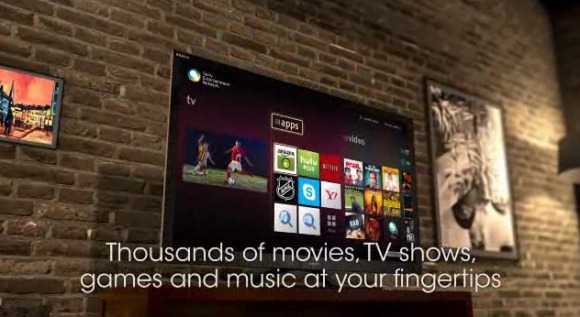 Aside from Skype, there's also YouTube, Picasa, Slacker Radio, Facebook, and Twitter support, together with various Yahoo apps and widgets thanks to Sony's partnership with the company. It's also possible to push video directly from a laptop or mobile device via WiFi Direct, or you can plug in a USB drive – only FAT, not NTFS, formatted drives are supported, mind – and play video, audio, and picture content stored on there. Currently, the HX850 supports MPEG1/2/4, AVCHD, WMV, MP3, WMA, JPG, and BMP files.
It all works, but it lacks the finessed UI we've seen on other smart TVs, particularly Samsung's. While we could do without Samsung's gimmicky gesture-navigation system and even its voice control, though the latter works surprisingly well, its interface in general is far slicker and more attractive than that of the HX850. Functional, then, but hardly inspirational.
Performance
Happily, the Sony dragon awakes when it comes to picture quality. There are various modes, including several variants of gaming, sports, cinema, photos, and an auto setting that attempts to already pick between them, though we found the two cinema modes did the best job for most of our viewing. Brightness, contrast, sharpness, color, color temperature, hue, and noise reduction are easily accessed, and you can dig into the more advanced settings like gamma, white balance, control over local dimming, contrast and black correction, and whiteness enhancer, in a sub-menu.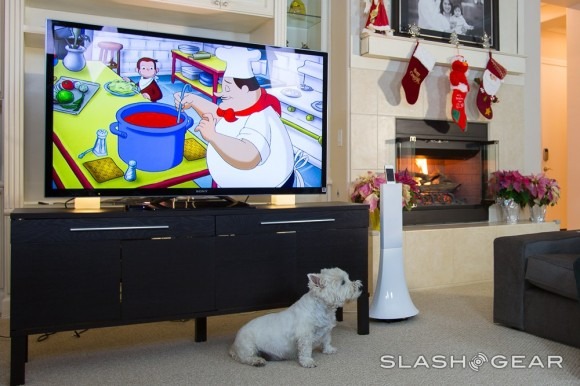 Lots to play with, then, but even with the default settings for Cinema 1 mode we were impressed by what the HX850 could do. A little calibration work, however, and the HX850's true skills became clear. Blacks are deep and crisp, though not quite to the same level as the Samsugn UN55ES8000 we reviewed back in July (albeit a TV with a $1,250 higher RRP), but the colors are particularly impressive – even across a broad viewing angle – and even when we took advantage of the set's ability to upscale standard-definition content, it proved pleasingly free of artifacts.
Motionflow did its job well, and we saw no ghosting or frame untidiness even in fast-moving scenes, such as action movies or sports games. Sony had supplied some active 3D glasses, and the effect is solid though with the occasional glimpse of crosstalk during busier moments onscreen. Sharp delineation of color or contrast caused the most problems.
Wrap-Up
Beautiful colors, superlative connectivity, and discretely handsome style. The Sony HX850 may not shout about its skills when you first look at it, but its LED display is among the best we've seen. Contrast levels and some hiccups in 3D performance would be our main complaints over image quality, though they're minor and – if you spend a little time finessing the settings – can mostly be ironed out.
Otherwise, it's only the add-ons that prove disappointing: the underwhelming remote that doesn't feel like it belongs with a TV that has an RRP of $2,600; the lackluster smart TV menus; and having to pay another $150 for the Skype camera (where Samsung builds in its webcam). With street pricing edging just under $2,000, however, we can be a little more accommodating of those flaws.
In the end, it's the screen quality that helps the HX850 stand out. Invest some time working around the contrast issue, and you'll be rewarded with a set that's great for movies and gaming.