Sony Exmor RS Smartphone Sensors Include HDR Video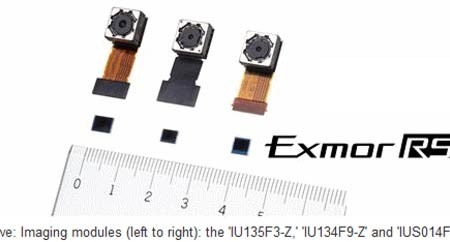 It looks like smartphone manufacturers have stopped racing ahead in the megapixel wars, instead focusing on improved sensors to deliver better images from mobile devices. Sony has been pressing ahead with such sensor developments, with its latest Exmor RS smartphone camera range further improving image quality. Sony will offer three versions of the sensor, with two eight megapixel models and a 13-megapixel variant.
Sony will be using new f/2.2 aperture lenses for some for improved depth-of-field, and the company has also improved auto focus features for video recording. In addition, videos will be able to take advantage of HDR, a feature that has been reserved for still images on smartphones so far. That should allow footage to capture a full range of lighting scenarios, with smartphones struggling to dynamically adjust to dramatic changes in the past.
The company is still working on further sensor enhancements, focusing on improved image quality and sensor behaviour while keeping the overall size down. Sony says that the first new Exmor sensor will be available in October, but it lack HDR video and RGBW exposure features. The other two sensors with those features will be reportedly be available in March and May 2013.
Manufacturers like Apple and Samsung will most likely make use of the new sensors once they hit the market next year. They're particularly appealing due to the reduced size (up to 40% over previous sensors), which would save precious space inside a smartphone that could make room for additional components or battery capacity, all while bringing better image quality.