Atlantic's EGO is a waterproof iPod speaker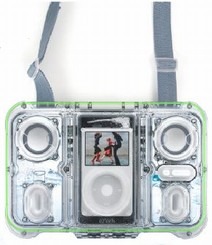 Atlantic has launched a waterproof speaker set for the iPod called the EGO. It will be launched later this week at CES. This would be ideal for vacation-goers who want to veg out by the beach, or people who want to go swimming in their pool and listen to music.
It is a pretty odd time to release such an item, given that the winter break is over (so no more trips to Mexico where the EGO could have been used), and that we are nowhere near having outdoor swimming upon us (well atleast in Canada).
The speaker casing is translucent, and looks pretty cool. The iPod is placed in the center, and a transparent case surrounds the actual iPod.
Atlantic launches waterproof EGO floating speaker system for iPod [Via: Engadget]