Sony Dot Switch video is strange and confusing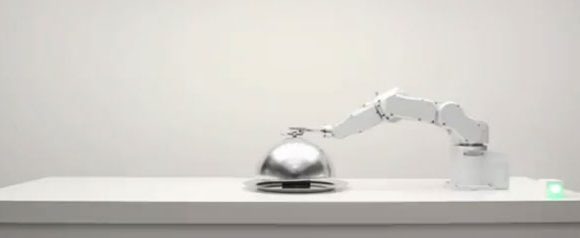 Sony has tossed a very strange video up on YouTube that shows someone using a Xperia smartphone to hit a round button on the screen. As they walk down a path with various devices on tables and press the circle on the touchscreen, the devices randomly come on and do their thing. It's strange, and you can see the video below.
The video teases the date 2-21-12, so presumably we will know what the video is talking about then. The stuff on the table is so varied and random it's hard to figure out what Sony is teasing. The yellow circle turns on an old record player, a Sony TV, and then some robotic confetti blower thingies. The final object is a robot arm that removes a dome from a tray and gives us a glimpse at a box with a similar circle on it.
I notice as the walk down the path progresses that a round blue light comes on as the devices engage and the robot arm table has what appears to be a smaller version of the box under the dome sitting there. I am going to guess this is some sort of universal remote/home automation gear that allows one switch to activate all the devices and uses NFC so that it only activates the device you are next to.
[via Reghardware]