Sony Cyber-Shot DSC-KW1 Is A Perfume Bottle Selfie Camera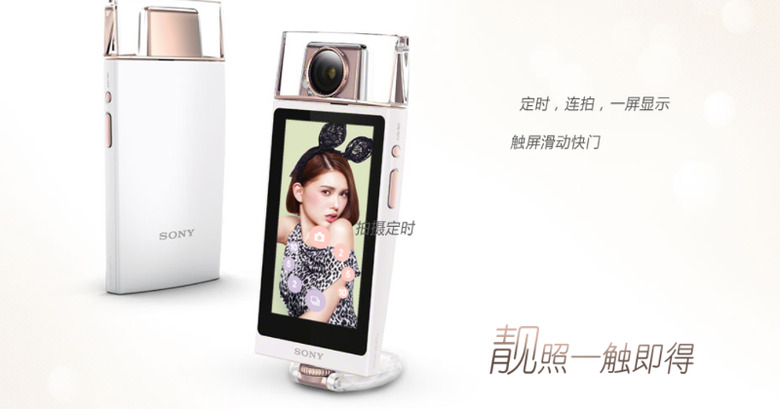 The leaks are indeed true and Sony has finally fully revealed the selfie-centric Cyber-shot DSC-KW1. This strange, not to mention expensive, digital camera is clearly targeted at women in China who love perfurme bottles as much as they love selfies and who have the cash to throw around for such a rare oddity.
Just a few days ago, a couple of photos leaked out showing a perfume bottle that could have been either a digital camera or a smartphone camera. Sony then put up a teaser on its Cyber-shot landing page, proving that the contraption is indeed a digital camera, part of its Cyber-shot family even. It also promised a revelation on August 22 and now it has finally pulled off the covers from what is formally the DSC-KW1. And it is everything we expected and dreaded it would be.
It is a digital camera, yes, but unlike most digital cameras which you mostly hold in a landscape orientation, this was designed to stand upright and to be held like a smartphone. Why? Because of two things. First, because it's easier to take selfies that way. And second, because no one would hold a perfume bottle sideways. Yes, the DSC-KW1 is indeed shaped and designed to look like an expensive perfume bottle. If Sony went into the perfume business, this would be their product.
But its true purpose behind that facade is, of course, to be a digital camera. It has a 19.2 megapixel camera with an F2.0 wide-angle lens and a focal length of 21mm. That lens, which is housed in the cap of the perfume bottle, is able to rotate 180 degrees so that this camera is useful for normal non-selfie photos as well. The DSC-KW1 also has the usual assortment of features found in other digital cameras, like a 3.3-inch viewfinder display, a microSD card slot, and WiFi and NFC connectivity.
The LED flash is decked with two Swarovski crystals, giving the camera an even more premium look and an equally premium price. The Sony Cyber-shot DSC-KW1 luxury perfume bottle selfie camera will sell for 5,199 RMB, roughly $845, with pre-orders taking place from August 22 to September 16 and shipping happening near the end of September. The bottles will come in very fashionable colors of white, pink, green, and purple.
SOURCE: Sony