Sony and LG finger Hillcrest Labs for motion control remotes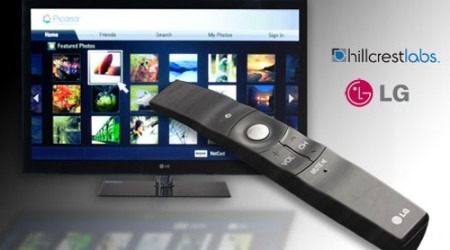 Hillcrest Labs has unveiled that LG is using the patented Freespace in-air pointing and motion control technology for its 3D Ready internet connected HDTV sets. The sets are already shipping on the Korean market and will be offered all around the world eventually. The new license agreement will see future versions of the TVs get a remote control that works sort of like a mouse without needing a desk or surface to put it on.
The Magic Wand remote will be offered with certain LG TV models in the Infinia line of LED LCD TVs. The remote will allow the user to browse the internet applications, TV menus, embedded games and other screens of the TVs using hand controls and an onscreen cursor. The technology in the remote promises adaptive tremor removal, high-resolution accuracy, orientation compensation and doesn't need line of sight to operate.
The remote will have six degree-of-freedom movement and a range of 30 feet from the set. Hillcrest has also announced that it has entered into a similar license agreement with Sony that will provide it with the same in-air pointing technology. This may be exactly what web connected TVs need to be more useful for surfing the net and using apps.