Sony Alpha 7s II arrives with 4K video, ultra-high ISO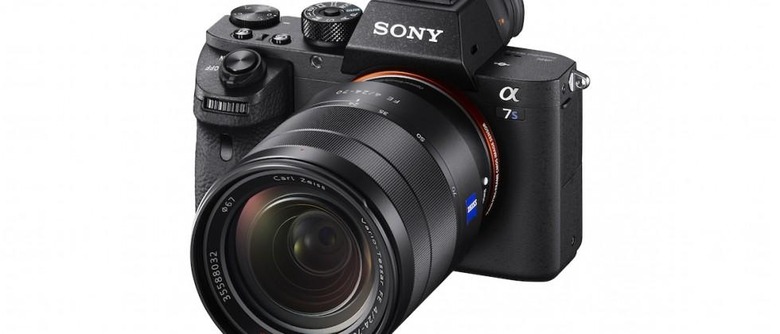 Sony has just announced its latest camera, the Alpha A7s II. As a follow-up to the original Alpha A7s, the new full-frame mirrorless shooter maintains the same 409,600 ISO setting, but adds support for internal 4K video recording. The first model relied on an external recorder for 4K, making it the camera's biggest weakness. Those who passed on the original A7s may find themselves tempted to upgrade, as the new model includes several other refinements in addition to better video features.
In addition to keeping the same high ISO light sensitivity, which makes it possible to capture images in almost total darkness, the Alpha A7s II uses the same 12-megapixel sensor as its predecessor. 4K video can be recorded in wither 24 or 30fps, while 1080p can be shot at 120fps with a full readout, a first for the Alpha A7 lineup.
Sony has introduced some new features, like the S-Log3 shooting mode. This uses up to 14-stop of dynamic range, meaning better images can be captured in a wider variety of lighting conditions. The A7s II also gets the 5-axis stabilization from the Alpha 7 II, making it easier to capture crisp photos in low light or when using telephoto lenses.
The autofocus system uses 169 AF points, so focusing is quick and accurate. Sony claims the high ISO sensor is good at eliminating noise that the camera can focus on objects that can't be seen with the naked eye. That would require some real hands-on time to confirm, but on the surface the Alpha 7s II sounds like an impressive update to the original.
SOURCE Sony