Sony Action Cam HDR-AS100V next-gen model brings splash-proof body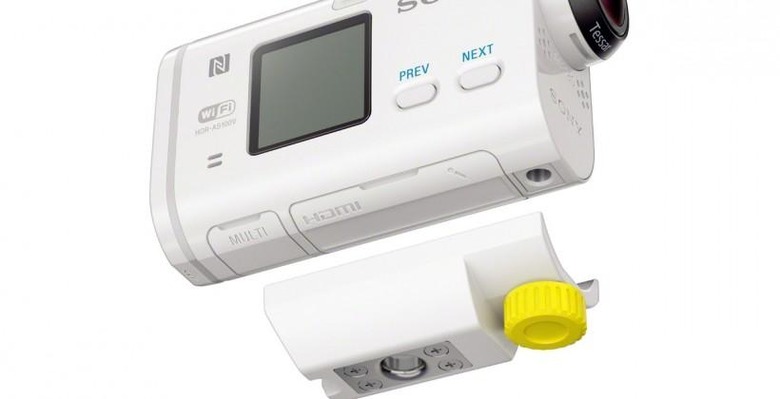 Sony has introduced the latest model in its Action Cam lineup, the HDR-AS100V. With this latest model, which eschews the dark blue color in place of an ivory sort of white, the body itself is splash-proof, meaning while it won't handle being dunked in the pool, it can handle some water exposure without the waterproof casing. There has also been a boost in specs, and a new quality level that is more 4K TV-friendly.
This is the first Sony Action Cam to feature Full HD XAVC S video recording, which is a consumer-level variety of the XAVC codec made for Ultra HD-level video work. The video is goes up to 50Mbps, something made possible by the new usage of the BIONZ X processor. Support for 1080p/24p video also been added to this model, as well as a very high speed 720/120p-240p with sound. This results in smooth slow-motion videos.
The new model retains the still photo shooting mode, but adds a boost in resolution at 13.5-megapixels — interval recording is limited to 2-megapixels, however. As far as design goes, the camera looks visually identical to the previous model, but there's a new mount that allows it to be fixed to a tripod sans waterproof casing, perhaps due to the new splash-proof feature.
Sony's Director of Camcorder Business Patrick Huang said: "This new Action Cam model offers a total POV video solution for pros and video enthusiasts. With vast improvements in the optics, innovative post-shooting software, and a growing portfolio of accessories, our Action Cam lineup is second to none."