Sony 4K Ultra HD Media Player to hit shelves July 15th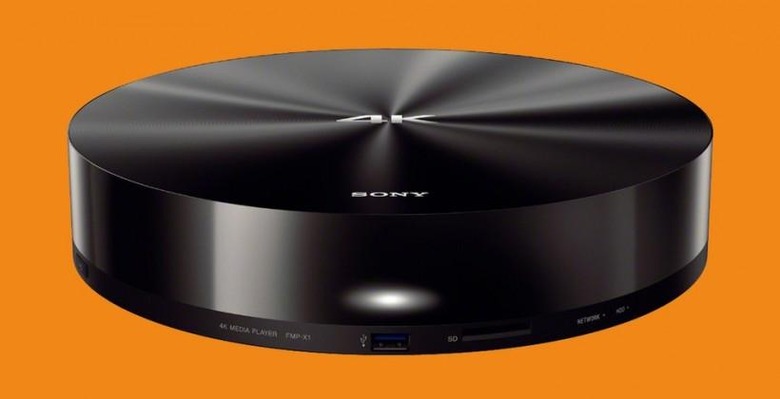 Sony unveiled its 4K HD Media Player back in January at CES, and stated it would be available this summer in a statement in April. Today the company further clarified this, revealing that the device will be available on retailer shelves later this month on July 15, with online ordering available now and shipments starting tomorrow.
The FMP-X1 4K HD Media Player can be ordered now online from Sony's website, with the estimated shipping date pegged as tomorrow. Meanwhile, those who don't want to order online will be able to head over to their nearest electronics retailer and buy the device off the shelve in two weeks. Content for the device will start rolling out later this fall.
The content will be available on what Sony calls the Video Unlimited 4K network, which it says is the first ever video service of its kind to bring consumers access to 4K TV shows and videos. Though buyers will have to wait a little while to see the network roll out, the media player will be shipped with 10 preloaded "Hollywood hits" that are in full 4K ultra high-definition.
The movies are all well-known, fairly recent Hollywood films that include The Amazing Spiderman, Bad Teacher, The Karate Kid, The Other Guys, Battle: Los Angeles, That's My Boy, Salt, Total Recall 2012, Taxi Driver, and The Bridge on the River Kwai. The upcoming network will include similar content, with the 4K HD Media Player allowing for up to 2TB of content downloads via its internal HDD, with expansion being possible with an external drive.
As far as specs go, the media player features network connectivity, with ports being comprised of two HDMI slots, an Ethernet port, one USB 2.0 and a USB 3.0, and an SD card expansion slot. Video output is 3840 x 2160 (2160p), while the video compression resolution is both 24p and 30p. Most of the ports are located on the back, but there's a USB slot on the front for easy access.
SOURCE: Mashable