Solar-cell powered home appliances gets DC supply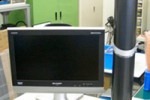 While solar powered home appliances are still far from reach for many of us, Scientists have been step ahead, cracking codes to improve solar cell's power efficient and its environmental concern. Current solar-powered home appliances require extra step of energy conversion to generate supply power, about 20% of the energy is wasted during the process despite having a 90% conversion rate.  A Japanese research group has figured out an alternate way to spare the extra step.
An experiment conducted by a group of research at the Tohoku University's Graduate School of Environmental Studies, has successfully unveiled a solar cells system with charging Li-ion secondary batteries that can generate direct DC power for the supply of home appliances without the extra AC conversion, thus it improved power efficiency as well as cutting down CO2 emissions.
According to the Universality, a one kilo watt-equivalent DC-power generated solar cell panels can reduce 40 percent of the CO2 emissions produced by a typical household over a period of four hours.