Smarter Stand For iPhone Doubles As A Cable Wrapper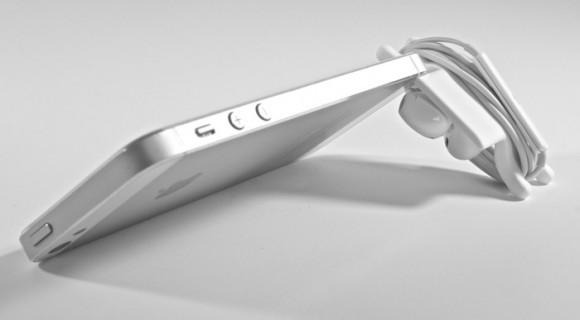 Accessories are a dime a dozen nowadays, and only clever ones usually make it through. The Smarter Stand is back, only this time it's for the iPhone. We've talked about the Smarter Stand for iPad in past, and now the company is back on Kickstarter attempting to raise funds for an iPhone version, but this one is a little different.
The Smarter Stand for iPhone is essentially a stand and a cable wrapper in one. It has forks at both ends that make it easy to wrap earbuds around, and one end has a notch for the earbud cable to slide into. Not only does that notch keep your earbuds from unraveling, but it also acts as the pivot point to adjust the angle of the stand.
The stand also comes with an outer extension on one side that keeps your iPhone propped up. Plus, it works with or without a case, and it can even act as a stand at the same time that it acts as an earbud wrapper. The notch has the headphone jack sticking out, so you can easily just plug your earbuds into your iPhone (for that pivot point), and then rest the phone on the stand. However, if you want sound to come out of the phone's speakers, you just simply unplug the earbuds part way.
So far, the Smarter Stand has raised almost $12,000 with their goal being $15,000. The project still has 58 days to go at the time of this writing, so the stand is very well on its way to getting funded. The best part is, the Smarter Stand for iPhone is only $12, which we're definitely surprised by even if it's just a small piece of plastic. Most minimalistic stands can cost over $20, so this is definitely on the cheaper end.