Smart will offer EV option on every car model in 2017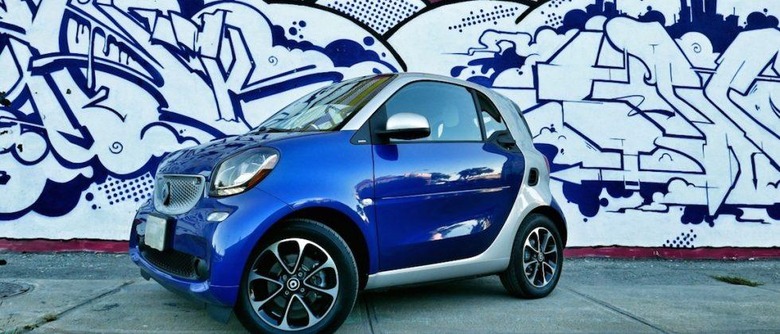 Smart, the Mercedes-Benz-owned maker of those really tiny Fortwo city cars, is a manufacturer that you think would have gone all-electric some time ago. While that hasn't been the case, the company is making a big move in that direction later this year. Starting with the 2017 model year, all of Smart's vehicles will come with the option of an electric version.
It's true that Smart only offers three models — the Fortwo, Fortwo cabriolet, and Forfour sedan — but this change means that it will be first the car brand to have an electric version of its entire lineup. They're not completely abandoning their gas engine versions, however, as that will remain on all three models.
Smart's focus on producing cars that make for simple, quick trips around town remains true even with the move to electric. The batteries will have a 17.6 kWh capacity and offer a max range of about 99 miles, meaning drivers won't be making any long distance trips. The smaller battery also means a full charge will be possible in about two and half hours, making it easy to keep topped up in case there's a need to drive on short notice.
Pricing details for the new Smart Electric Drive models hasn't been revealed yet, but that might change when all three go on display at the Paris Motor Show in October. The new Fortwo coupe is scheduled to go on sale in spring of 2017, while the convertible model will arrive in the summer months.
SOURCE Smart USA