Smart Subwoofers from Thiel Audio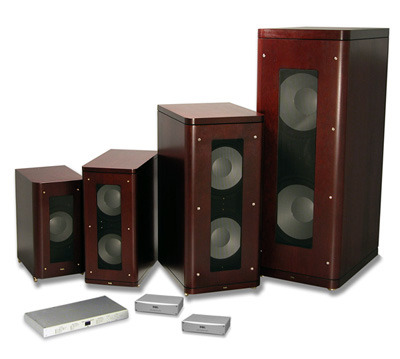 Thiel Audio, one of the few finest and world-renowned high-end loudspeaker makers in U.S, rolled out a new series of SmartSub subwoofers designed for ultimate bass reproduction in home theater and music sound systems. The 4 new lines of subwoofers, namely SS1, SS2, SS3 and SS4 is capable to generate a deep, dynamic and low distortion bass down to 10HZ. They are active-sub and powered by 500 watts (SS1) to 1000 (SS2-4) watts high efficiency mode amplifier with thermal overload protection.
The Subwoofers can be used with Thiel's patent pending smartsub technology companion SmartSub Integrator or with the PX02 or PX05 Passive Subwoofer Crossovers. The integrator can be adjusted automatically to match the rest of the units with accurate and seamless sonic integration. The heavy duty bass machines do not come cheap; their top of the line SS4 is retail at $8900 using two long throw 15" woofers in a whopping 290 pounds cabinet! The lightest single long throw 10" woofer SS1 weighted about 55 pound and has a more affordable price at $2900. Cabinets are available in a variety of real wood and painted finishes.
Thiel SmartSub SS1, SS2, SS3 and SS4 Subwoofers Announced [via ecoustices]