Smart Eye Tracking Glasses offers more detail on what wearers look at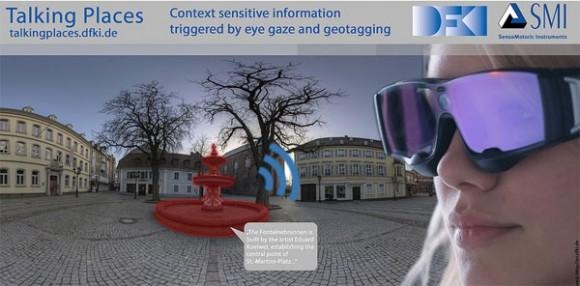 Smart glasses have grabbed a lot of headlines since Google unveiled its Google Glass project for wearable computing glasses. SensoMotoric Instruments (SMI) and the German Research Center for Artificial Intelligence (DFKI) has unveiled their own augmented reality applications with a set of glasses that trigger information by observing the eye gaze of the user. These glasses offer more details on things that the user looks at.
The combination of software and hardware in the eye tracking glasses follows the users gaze and when the user looks at an object, a building, or a person, they will be given more information on what they're seeing via headphones. The prototype glasses these two firms developed are intended to illustrate the feasibility of using eye tracking as an additional input mode for a new generation of smart glasses.
These glasses will be on display at CEBIT next month and users we able to try them out with an interactive tourist guide called Talking Places. This interactive guide needs no input other than the user looking at what they would like to see more information on. The technology identifies architectural objects of interest visually or using geo-tagged data and then provides context-sensitive audio information through earphones attached to the glasses.
Another set of prototype glasses acts as an interactive museum guide and has already been tested at the German Museum Pfalzgalerie Kaiserslautern. This prototype detects the specific art piece that the visitor is looking at and then provides audio information on the specific object via the earphones. In the future DFKI wants to add in graphical inserts by combining the eye tracking glasses with a head mounted display offering visual information about the artwork.
[via Eyetracking-glasses]