Slot Mods crams a slot car track inside replica RCR 917 racecar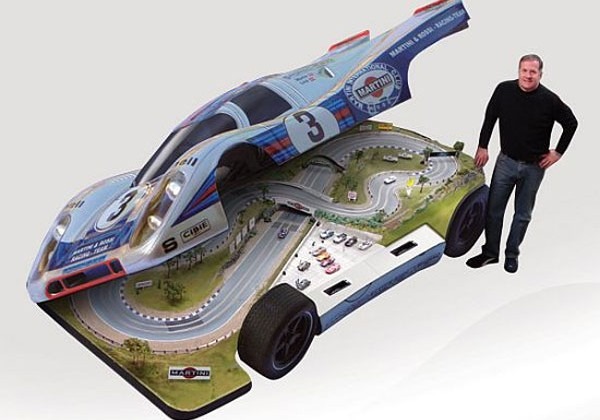 I used to really like slot car tracks when I was a kid, but I hated having to put them up when I was done. A company called Slot Mods has an awesome slot car track that has very nice details on the track itself. The track has cars sitting in the paddock, trees, and cool crash barrier walls. The coolest part is that the track is hidden inside a car replica.
The track is covered with a replica body shell from a 1971 RCR 917 racecar. It appears that the car is full size even. The real car participated in the 1971 12 hours of Sebring race. The company that makes them has options that the buyer can choose. Presumably, different tracks for the slot cars and different car shells are among the options.
The car replica even has center lock wheels and tires that are worn from racing. The slot cars are 1/32 scale. If you are wondering how much the track costs, this is one of those if you have to ask things. You must email the company and they will tell you what it costs to commission the track.
[via Born Rich]