SlingStudio is a wireless production system for multi-camera broadcasting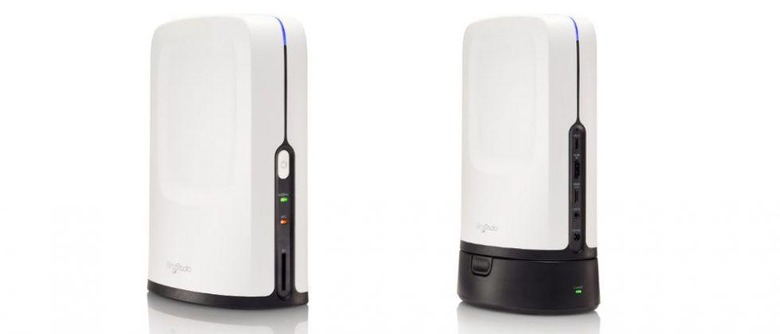 Dish Network's Sling Media has unveiled its new SlingStudio, something it says is the first ever portable and wireless production system of its kind. With this device, broadcasters and producers — both professional and hobbyist — are able to manage up to ten connected cameras or smartphones. The system monitors and can edit up to four high-definition video inputs at once, and it can livestream video to supported platforms like YouTube and Facebook Live.
According to Sling Media, its new SlingStudio is able to connect to any HDMI-enabled camera via CameraLink, and it can also connect wirelessly to Android and iOS devices via the Capture app. Also available is an iPad Console app, enabling broadcasters to switch between video feeds to edit and manage them from a single device, no separate switcher necessary.
While content is being livestreamed to either of the aforementioned platforms, the video content is also recorded to a storage device, of which users can utilize an SD card, USB SSD, or an external HDD. SlingStudio itself broadcasts a 'video-grade' WiFi network — the user connects their cameras to this, meaning no separate Internet connection is needed to use the system. Cameras can be positioned up to 300ft from the SlingStudio hub.
SlingStudio also features an HDMI input port for when it is necessary, and there's the CameraLink dongle, which is a wireless adapter. That adapter isn't needed if Android and/or iOS devices are used. Using the (required) iPad Console, operators are able to access, manage and edit up to four video feeds from any of the up to ten cameras connected to the device. A bunch of production editing tools are available, such as splitting the view with multiple feeds, using picture-in-picture, adding text overlays and/or transitions, and more.
SlingStudio itself will be available starting in May for $999 USD. The CameraLink optional accessory is priced at $349 USD, the USB-C Expander (for wired Gigabit Ethernet) is $49 USD, and the optional battery is $149 USD.
SOURCE: My SlingStudio