Sliden'Joy makes your laptop a triple screen workstation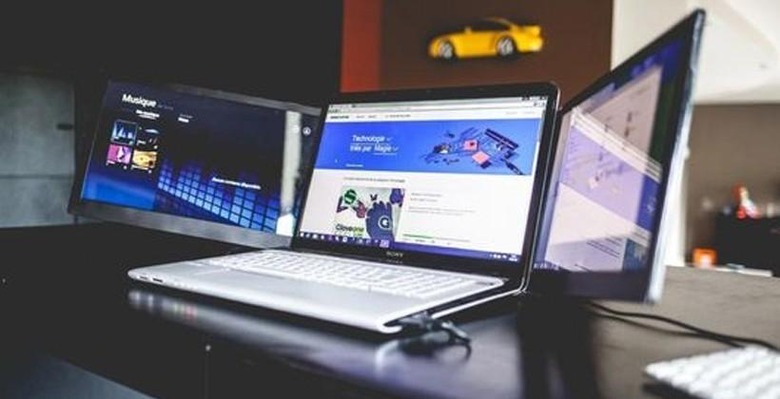 Most people who have moved to multiple screens on their desktop computer will tell you that once you go multiple screen it's very hard to go back to a single display. You can use multiple screens on many laptops thanks to video outputs, but that is normally limited to in the home or office use only. A new system has debuted that is called Sliden'Joy and will add two more screens to you notebook that are portable and can be carried with you.
Sliden'Joy comes from a company based in Belgium and is seeking funds via Kickstarter. The system has three size options to give you more screens depending on the screen size your notebook has with 13, 15, and 17-inch offerings.
All of the screens have full HD resolution and work for Mac and PCs. The displays can rotate 180-degrees with aluminum hinges and promise significantly more screen real estate when working from your notebook. The Sliden'Joy system attaches magnetically to the back of the main laptop display.
Connectivity to the notebook for power and video comes via a single USB 3.0 port or a pair of USB 2.0 ports. You might notice in the images that the hinges aren't aluminum, the prototype pictured had 3D printed hinges, but the final product will use aluminum. The Kickstarter campaign launched on July 6 and pricing is the same no matter the screen size you choose with one screen selling for $221 and a pair for $332.
SOURCE: Gizmag