SlashGear Review - VisionTek Radeon HD 3870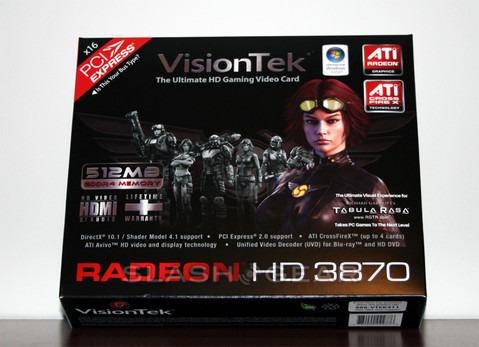 I received the VisionTek Radeon HD 3870, which happens to be the first DX10 card we've reviewed here at SlashGear. Unfortunately this means that we do not have a suitable card to compare benchmarks to. Don't worry though, we'll have more in the future for comparison.
The box looks nice enough, you'll recognize characters from the game Tabula Rasa You'll also note the big bold print which lets you know that the card needs a PCI Express x16 slot, has 512MB of GDDR4, is HDMI 5.1 certified and comes with a lifetime warranty.
Inside the box you'll find the card along with a few accessories. You've got cables for component output as well as an S-Video cable and adapter for both DVI-to-VGA and DVI-to-HDMI (which is nice for some of the newer, larger HD monitors). You'll also find a manual, driver CD and a CrossFire bridge.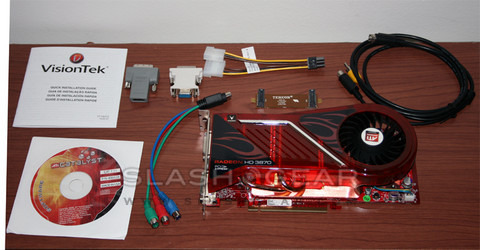 The overall look of the card is fairly basic, though the cooling pipes are a nice touch (and will help keep the card nice and cool). The card is going to take up two of your PCI slots because of the larger cooling setup.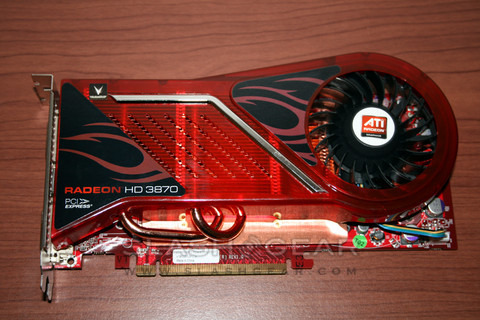 Now on to what you're really waiting for, the benchmarks. I've set up our gaming rig with the follow specs:
CPU: Intel Core 2 Duo E8400 3.0GHz
OS: Windows Vista Ultimate
Mobo: Gigabyte GA-P35-DS3L
RAM: Corsair Dominator 2GB TWIN2X2408-8500C5DF
HDD: Western Digital Caviar SE 160GB SATA
Case: Ultra m998 Mid-Tower
I've chosen to run the standard 3dMark06, as well as Crysis, World in Conflict and Team Fortress 2 to get a real-world feel.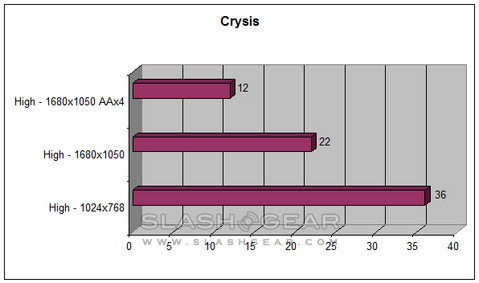 You can see that Crysis works the card quite hard, however, that's to be expected of almost any gaming rig. I've left the settings on High, and it is quite playable at 1024x768, however, since most people run their games at 1280x1024 at the very least, you'll need to turn down the settings to make it playable.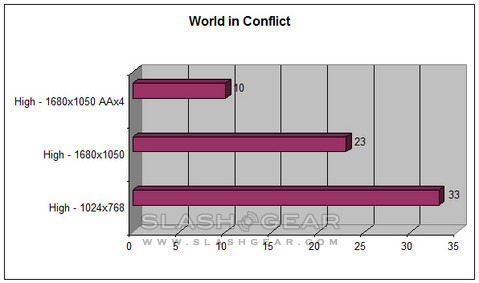 World in Conflict is another title that is hard on even the best systems. You can see that once again you'll get good performance at 1024x768 on High, but you'll need to lower the settings if you want to go to a higher resolution.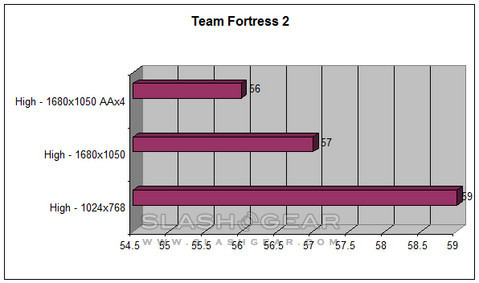 Now if you're not wanting to punish your system with games that even the best systems have trouble playing, you'll find that the HD 3870 performs quite well. The card performs well while playing Team Fortress 2, even at the higher resolution with anti-aliasing turned on.
For those that just love to crunch numbers, I've provided a few of the standard 3dMark06 tests for your viewing pleasure.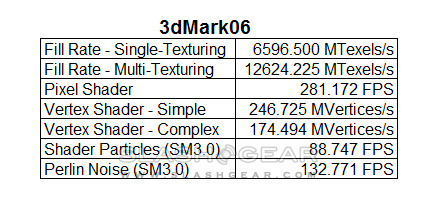 In all, I'd say that the VisionTek Radeon HD 3870 is a solid card. Sure, Crysis and World in Conflict were pretty rough, but honestly, that's to be expected out of most cards. Aside from those two titles, the card ran flawlessly. Looking online I saw the card for about $215, which I would say is a good price. If you're looking to spend around $200, then I'd definitely recommend this one.
I give the VisionTek Radeon HD 3870 four out of five gears.
[rating: 4]