Slashgear Review - NZXT Tempest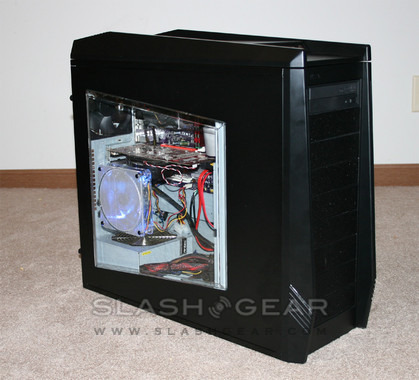 When it comes to PC cases, there are several things to take into consideration. Style is one area that usually gets ranked pretty high. You've also got to make sure that it keeps your system running cool, and allows for plenty of room for everything. Well I've had the opportunity to test out the NZXT Tempest, and I'll let you know how it holds up.
Fist, lets start off with style. The case has a nice streamline look to it, with most of the case being made from plastic, which cuts down on weight considerably. The front of the case is essentially made from 9 removable grills for 5.25-inch drive bays. Two larger grills are located on top of the case. You'll find the power and reset buttons situated on the top of the case along with audio jacks, two USB ports and an eSATA port.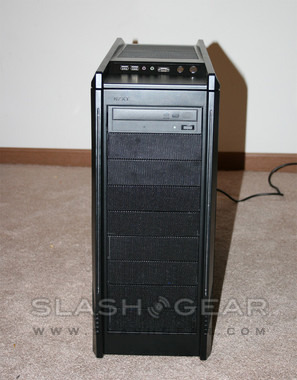 Something that can't always be assessed about a case before purchasing is how easy it is to install your system in. The Tempest excels in this area for a few reasons. First, you have plenty of drive bays (8 internal 3.5-inch drives, 3 external 5.25-inch drives), which means you can situate your drives however you want. All of the drive bays include screw-less installation, which always comes in handy when trying to get things situated perfectly the first time, and for adding new drives later.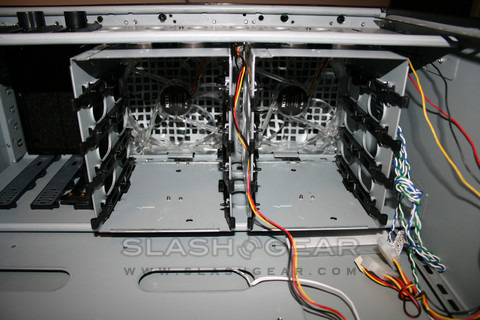 They have chosen to place the PSU at the bottom of the case, rather than at the top, which not only provides better airflow, but also seems to make things a little easier during installation. Finally, if you remove the side panel behind the motherboard, you can use the space between the two panels for cable management. There are several well-placed holes which allow for you to tuck away excess cabling and clean up the overall look of your case. This too helps to increase airflow. I did find it a bit difficult to tuck away some of the power cables due to the small amount of space between the panels, but overall, it's a great feature to have.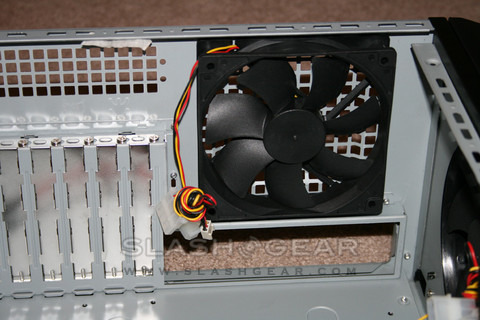 So what does this case do for cooling? Sure, it places the PSU at the bottom and gets rid of excess cabling to provide better airflow, but they're calling this the "Airflow King", so it's got to have something better than that, right? If you look at the front of the case, situated between the 3.5-inch drive bays and the front grills are dual 120mm intake fans, on the top of the case are two 140mm fans, and situated on the side and rear are two more 120mm fans for exhaust. They really weren't kidding when they gave it the title.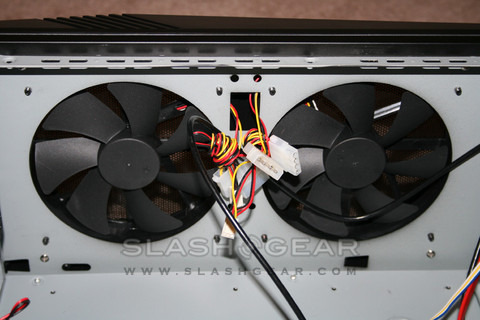 The first thing I thought when I saw how many fans were in this case was the noise factor. Sure, I usually have music or something going in my workspace, but I don't want a vacuum cleaner sitting under my desk. Thankfully it is surprisingly quiet, despite the number of fans. It can get a little loud at times, but it never reached a point where it really affected my work environment.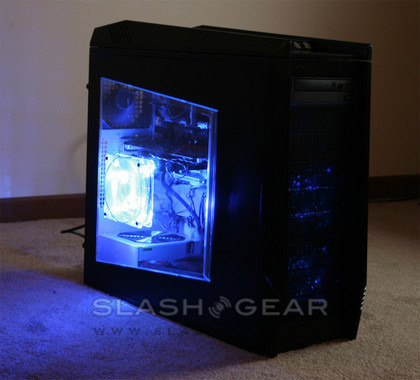 Price is something else most people take into consideration when buying a case. The NZXT Tempest retails for $99, which would make this fall into a budget gaming case. For the price, it provides a lot of cooling and looks great. For someone on a budget, I would definitely recommend this case. I give the NZXT Tempest 4.5 out of 5 gears.
[rating: 4.5]