SlashDeal : Amazon Blu-Ray BOGO Free Is Back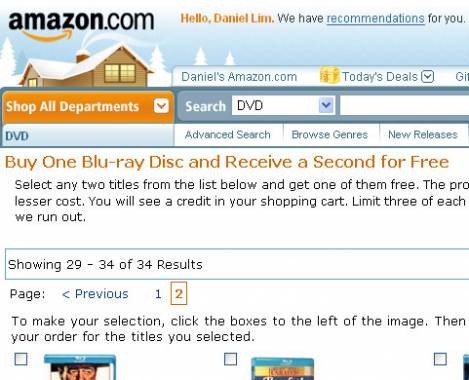 We may receive a commission on purchases made from links.
Slashgear is committed to bring you the best deal in Hi-Def. If you've missed the last BOGO Blue-Ray deal from Amazon, they are back with selected 34 Warner's tittles. It's a Holidays season, wrap you love one a few ..... in Blue.
The Departed
Blood Diamond
Superman Returns
Tim Burton's Corpse Bride
TMNT
The Fountain
The Phantom of the Opera
Superman II – The Richard Donner Cut
Swordfish
Million Dollar Baby
Training Day
The Road Warrior
Enter the Dragon
The Ant Bully
Superman – The Movie
Dog Day Afternoon
Space Cowboys
Purple Rain
Bullitt
We Are Marshall
Lady in the Water
Battle of the Bulge
Kiss Kiss Bang Bang
Lethal Weapon
The Lake House
Gods and Generals
Firewall
Syriana
The Cowboys
Beerfest (Unrated)
Gothika
Scooby Doo
Rumor Has It
Jailhouse Rock