Skyrim Monopoly is franchise's latest themed game set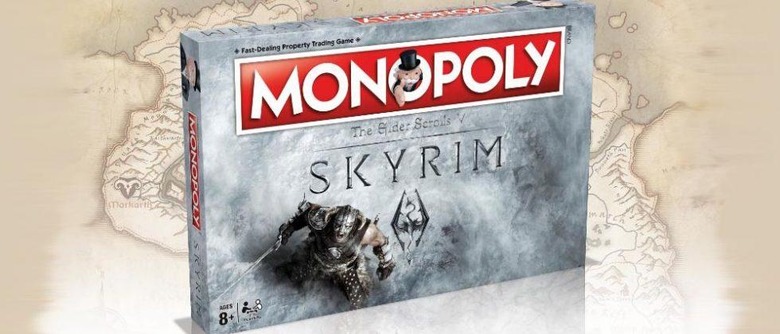 There's no shortage of themed Monopoly boards and game sets, and newest among them is the officially licensed Skyrim Monopoly. The game, as its name suggests, is themed after the popular video game Skyrim. The Monopoly game pulls content, including artwork, from the video game, and is available to preorder now ahead of its March 2017 release date.
We don't have any pictures of the actual board and game pieces yet, unfortunately, so if you want to preorder, you're going to have to do so relatively blind. According to Merchoid, the new game board's properties are locations from the Skyrim world, such Winterhold and Windhelm. As in the normal game, you'll be buying and selling properties in them.
They tease that the game includes "dragons who may strike at any moment to destroy your hard earned investment." Make of that what you will, as there aren't any actual details about any gameplay changes. It is doubtful the game will work differently than the ordinary Monopoly game, however, as these themed boards are usually just about the looks.
Included with Skyrim Monopoly is the game board, of course, as well as the pack of Monopoly money, dice, buildings, game tokens, and the cards. Hopefully we'll be seeing some pictures of those items ahead of launch, but note: Merchoid lists itself as only having two boards remaining for preorder, which itself seems to be fairly limited. Price is $48 USD.
SOURCE: GameSpot