Skyrim interactive world map launches for iPhone and iPad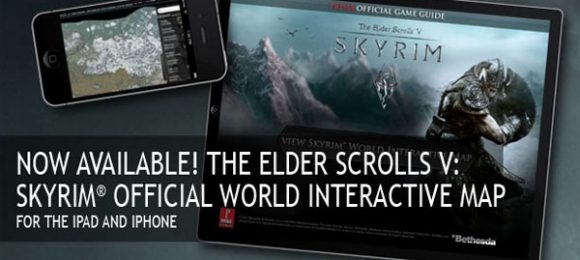 Skyrim fans that have an iPhone or iPad need to get ready to buy the latest app from Bethesda and Prima. The companies have announced the launch of an interactive map application that will help fans of the videogame explore the massive world without getting lost. The giant interactive map is free to download. Some of the goodies that you will probably want do require in-app purchases.
Map includes a world map of Skyrim and all nine capital cities at no cost. There are over 160 interior maps, 350 primary locations, 200 secondary locations, and another 1000 points of interest. All of that content requires in-app purchases. You can toggle the points of interest on or off and the map has 3200 percent zoom so you can see all the details. Players can also add their own custom points of interest.
The application has a fully integrated search function to make it easy to find things you want to visit. There are also screenshots of all nine capital cities along with the primary and secondary locations. The map makes it easy for you to track where you visited and where you still want to go. If you're not based in the United States, sadly you won't be able to get the app.