Skyrim Dragonborn DLC officially revealed, complete with dragon mounts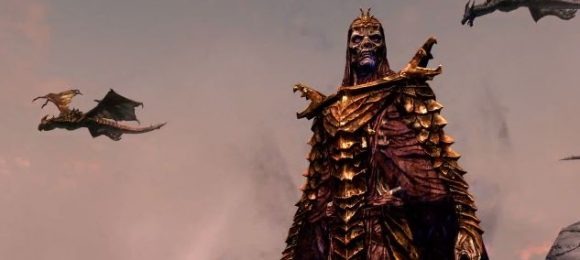 A couple weeks back we heard that Bethesda may be plotting a new piece of Skyrim DLC called Dragonborn. Today the studio confirmed those rumors, officially announcing Dragonborn and delivering the DLC's first trailer. Just like the rumors claimed, players will be returning to the island of Solstheim, and yes, it looks like you'll be able to ride a dragon.
Of course, dragon mounts haven't been confirmed yet, but the trailer posted below clearly shows the player character getting onto a dragon and then flying off. This could still be a scripted event, but due to the fact that Bethesda has mentioned dragon mounts in the past, we're thinking that they might actually be a full-fledged feature in Dragonborn. In the DLC, players will be going toe-to-toe with the Dragon Beast, the very first Dragonborn who is now plotting a return to devour the power of the dragons in Skyrim.
That's certainly exciting, but we have a feeling that players will be even more excited about the return to Solstheim, an island in northern Tamriel that was the focus of the Morrowind expansion Bloodmoon. The visuals seen in the trailer are certainly reminiscent of the environments in Morrowind, so that should be more than enough to get long time Elder Scrolls fans to hand over their money. We also catch a glimpse of some new armor types in the trailer, as well as some new weapons. Check it out below.
The Xbox 360 version of Dragonborn will be available on December 4 for 1600 MSP. Bethesda hasn't given a release date for the PC and PS3 versions yet, and sadly, the chances of a PS3 release seem slim considering that Bethesda is still having issues bringing Dawnguard to the console. We'll be sure to update you once we have more information on Dragonborn, but for now, let us know if you're planning on picking it up.