Skype for iOS updated with Siri support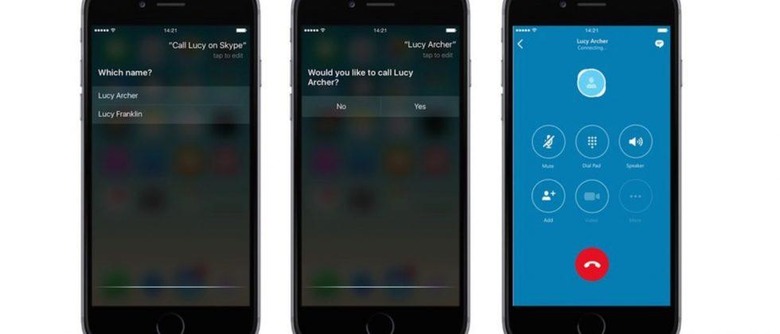 Now that Apple's iOS 10 has been out for over a week and is making its way to most users' iPhones, lots of popular apps are updating to take advantage of the software's new features. One such release is today's update for Skype, which allows the app make use of the new Siri API for third-party developers. Now users can ask Siri to place a Skype call to someone without even opening the app.
The feature basically allows Skype calls to be placed at a native level on par with the iPhone's default phone app. iOS 10 now lets users store Skype user names in their contacts, so asking Siri to place a Skype call to someone will be completed using those details. If there's more than one contact with the same name, Siri will even confirm which person to call.
The new version of Skype for iOS also supports Apple's CallKit, which simply means that incoming Skype calls will use the same native interface as a regular phone call, displaying a contact's photo, and even being answerable from the lock screen.
Version 6.25 of Skype for iOS is available to download now on both iPhone and iPad. However, Microsoft notes that this update is currently limited to the consumer version of the app, but the Skype for Business iOS apps will be getting the new features before the end of October.
SOURCE Skype Blog