Skype debuts new browser-based group video chats, offline file sharing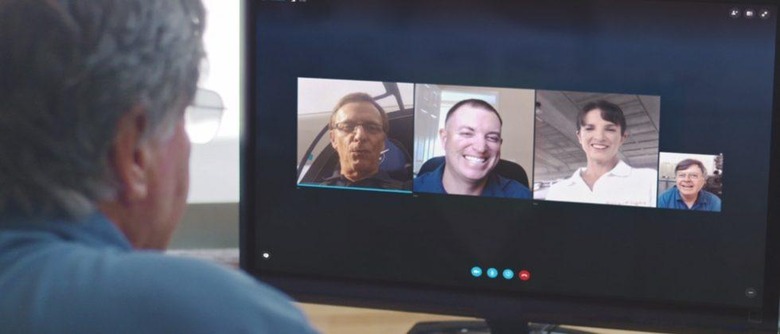 Microsoft's messaging and video chat platform Skype has rolled out several new features this week, starting with a new browser tool aimed at small businesses. Called Skype Meetings, it's a free, web-based option for group video chats, along with a few of the collaboration tools from Skype for Business. In addition, Skype's standard existing apps now feature the ability to share files with users even when they're offline.
Skype Meetings is meant to give small companies a few advancements over the basic version, along with a taste of what Skype for Business subscribers get. Meetings supports video chats with up to 10 people for the first 60 days, then reduces the limit to three users afterwards.
The collaboration tools included with Skype Meetings include screen sharing, integrated PowerPoint presentations, and a "laser pointer" tool for organizers. While these features and more are included in Skype for Business, that requires a paid subscription to Microsoft's Office 365. Since Skype Meetings doesn't require an app, users can simply share a link to join a video chat in their browser window.
It's clear that Microsoft is hoping Skype Meetings will attract business users to sign up for Office 365. The free, basic version of Skype offers video chats with up to 25 users, but doesn't feature any collaboration tools.
Meanwhile, the existing Skype apps for mobile and desktop have been updated with an offline file transfer feature. Users can share files of any type up to 300MB in size with contacts that are offline, and they'll receive a notification to download it the next time they login.
SOURCE Microsoft