Six electric taxis hit the streets of New York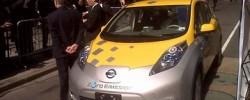 Nissan and New York have conspired together to bring 6 new electric taxis to the city today. The Nissan Leaf is the model for these taxis and it's repainted to look right for the job. Nissan and New York worked together to launch these new electric taxis today in celebration of Earth Day. These taxis will test out the waters of New York to see if electric cars are equipped to take on the taxi world.
Nissan states that the Nissan Leaf taxis have a range of around 100 miles, making it more than enough to handle the average daily taxi route of 70 miles. Nissan and New York wants to see whether or not these taxis are fit to take on the demanding life of New York citizens, who are in constant demand of a taxi at every moment. Just in case these Nissan Leaf taxis are unable to survive the day with only one charge, Nissan has set up quick-charging stations around New York so drivers can recharge their taxis if need be.
These 6 new electric taxis are all part of New York's Mayor Bloomberg's goal of having electric taxis make up at least 33% of New York's taxi cars by the year 2020. If the Nissan Leaf performs well as a taxi, then Bloomberg's plans are well on their way to becoming a reality. David Yassky, the Taxi and Limousine Commissioner, stated that Nissan is "working on that timeline", with both the Nissan Leaf and an electric version of Nissan's NV 200.
The Nissan NV 200 is New York's "Taxi of Tomorrow", and is set to become the official taxi of New York. It was approved by the Taxi and Limousine Commission and it beat out several rivals for the position. While not electric, it will be much more fuel friendly than the entirety of the taxis in New York City. Nissan plans on launching the NV 200 by October this year, starting the 10-year agreement it has with New York to be the city's official taxi provider.
[via The Wall Street Journal]