Singtrix karaoke tech makes your singing voice "sound like a pro"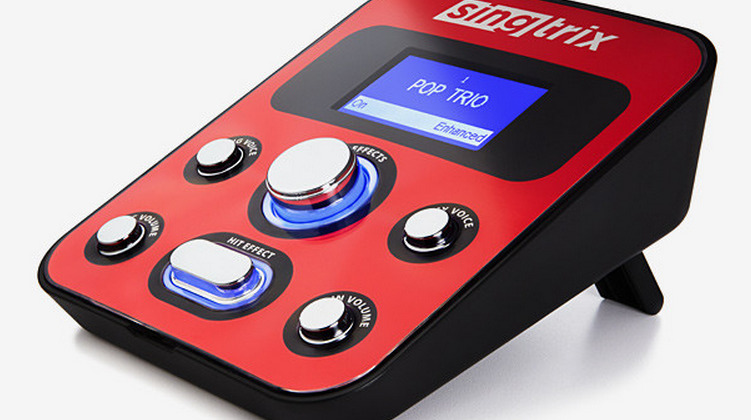 Karaoke is a fun activity for those who can sing, and is a way to passive-aggressively dole out punishment for those of us who can't hold a tune. Singtrix is a small device from the folks behind Guitar Hero that aims to blur the line between these two types of karaoke singers, and it works by altering an individual's voice in real-time. For those who already sound nice when they sing, Singtrix will reportedly make you sound great. For the rest of us, this device will keep the cats from howling when we step up to the mic.
The premise behind Singtrix is a fun one — rather than providing a simple karaoke medium, it tosses in technology that makes you sound good when you sing. The four individuals responsible for the device also worked on developing the Guitar Hero technology. Said one of the inventors, John Devecka, "If you're bad, you'll sound good. If you're good, you'll sound great."
The Singtrix is more than the small device featured above, including a professional microphone and boom stand, as well as a device holder, a 2.1 stereo speaker system with an integrated subwoofer, the relevant cables, and a number of songs that depends on which price range you elect to subscribe to. There are all the particulars — volume, bass, and treble controls, color skins, effects and presets, etc. — as well as different voice skill levels and a warranty.
This doesn't only fix the quality of your singing by adjusting things like pitch, it also changes the sound of your voice if you so choose. A couple different voice enhancements can be toggled between while singing, multi-part harmonies are possible, and more. There are 350 presets, among which are some special effects. The unit is slated to begin shipping next month.
SOURCE: Mashable