Singing Machine Home Bluetooth speaker doubles as karaoke machine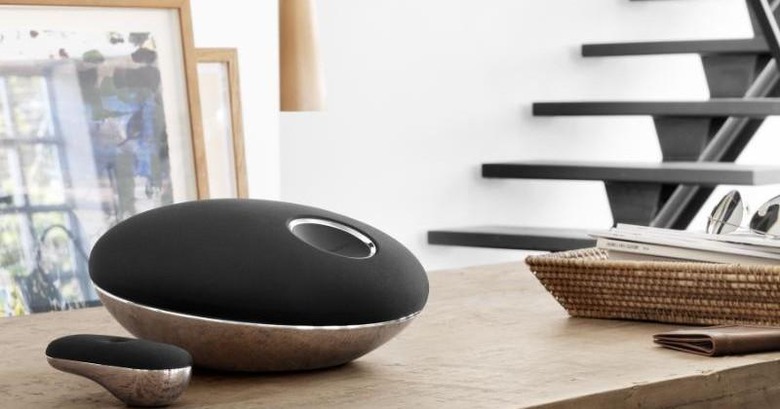 Singing Machine has introduced its latest device, the Singing Machine Home. The round device is subtle in design and doesn't immediately lend one towards thoughts of a karaoke machine, yet doubles as such for those times when one needs to break out some entertainment. The Bluetooth speaker will be launched via Best Buy later this month, priced at $299 USD.
Singing Machine Home functions as an ordinary wireless speaker, offering 2.1 omnidirectional sound via a subwoofer and two tweeters. The speaker has a range up to 33-feet, and allows for streaming via Internet radio services, such as Pandora and Spotify. There's a wireless remote included with Home that is equipped with a microphone, allowing one to sing during karaoke sessions.
The remote includes controls for selecting songs, as well as a muting feature. As for the speaker's karaoke function, Home can connect to a TV and provides access to 8000+ karaoke HD videos via the cloud. There's a free trial subscription, but those who have more demanding needs can choose between three different subscription options (pricing not available).
Said Singing Machine CEO Gary Atkinson: "With the Singing Machine Home, we've created a sleek Bluetooth speaker and karaoke machine in one that earns its place as a centerpiece in your home. This is the first karaoke machine to have a truly streamlined, grown-up style and versatile technology so that it is used every day. The Home is about experiencing music, delivering great sound and creating fun memories with friends and family."
SOURCE: Yahoo! Finance