SiliconDrive USB Blade - Size matters not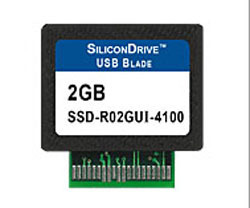 If you're looking for a new solid state drive, you're not going to find a lot of them that are much smaller than this one from SiliconSystems.
The SiliconDrive USB Blade is roughly the size of a postage stamp and is boasted to be "environmentally-rugged." I'm really not sure how something of this size can be considered rugged, but I'll take their word for it.
The drive features technologies such as PowerArmor, SiSMART and SiliconDrive. Expect these to go on sale in December in flavors of 512MB, 1GB and 2GB.
SiliconDrive USB Blade solid state drive launched [via pclaunches]