Siemens shows off hybrid electric airplane at 2011 Paris Air Show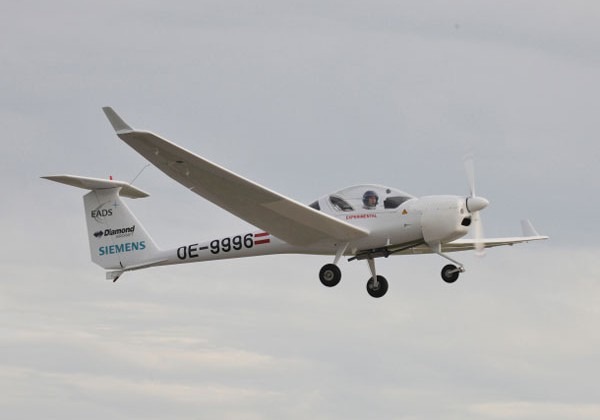 When we talk about green technology for transportation, we generally think about green cars powered by biofuel, electricity, or hybrids. There is a lot more in the transportation world working towards being greener and the aircraft industry is one of those places. At the 2011 Paris Air Show Siemens unveiled the world's first series hybrid electric aircraft. The airplane is called the DA36 E-Star.
The DA35 is a 2-seat aircraft that is a composite glider at its core. Siemens worked with Diamond Aircraft Industries to build the aircraft and EADS as well. The plane is based on the HK36 Super Dimona airplane. The DA36 uses a hybrid power plant that has a main engine that is powered by a gasoline generator and batteries. It sounds like the flying equivalent of the GM Volt.
Siemens provides the 70-kilowatt engine that runs the propeller and the gasoline generator is a Wankel combustion unit made by Austro Engine. EADs provided the batteries and extra batteries are used during takeoff and ascent. The plane is early in development, but Siemens says that the tech can be scaled up for use on large passenger planes and can save up to 25% in fuel consumption. Another big benefit of the design is the aircraft is quiet.
[via CNET]