Shelby GT350 5.2L Flat-Plane V8 makes 526hp and 429 lb-ft of torque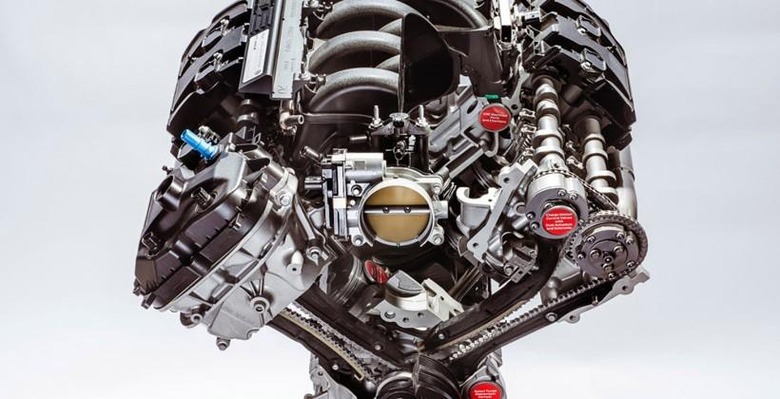 After playing coy about exactly how much power the new flat-plane crank V8 engine under the hood of the Shelby GT350 Mustang would make for a long time, Ford has finally gone official with the power numbers. Previously Ford had teased that the V8 would make over 100 hp per liter, but that's all we knew and fans of the Mustang have been waiting to hear the official numbers.
The wait is over with Ford announcing that the 5.2L V8 in the GT350 makes 526hp and 429 lb-ft of torque. The most impressive part about the GT350 is that the engine makes that much power and torque without resorting to a supercharger. Only a few model years ago when the 4.6L V8 was under the hood of the V8 if you wanted this much power you needed a big supercharger.
We already knew that the 5.2L V8 would be Ford's most powerful naturally aspirated V8 ever made and at 102 hp per liter, it lives up to that claim. The redline for the engine is 8,250 rpm. The key to producing that much power and torque from the engine is the flat-plane crank, typically used in high-end sports cars like Ferrari.
The only gearbox option for the Shelby GT350 and GT350R that use this engine will be a 6-speed manual. The engine block is made from aluminum and it uses a special Ford patented plasma transferred wire arc cylinder-liner tech to help reduce the engine weight.
SOURCE: Ford