Sharp unveils a tiny LCD screen that doubles as a scanner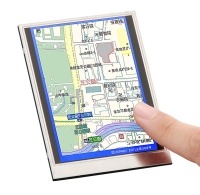 Sharp has shown off an interesting new piece of technology in the form of a small 3.5-inch LCD screen that also doubles as a scanner.
"The screen, on show at the Ceatec exhibition, features an optical scanner for each LCD pixel, and could also be used to recognise fingers or other objects." Just imagine if something like this were incorporated into a mobile phone. If someone were to say, hand you a business card, you could simply place it on the screen and scan it. Or, you could have a biometric lock on your phone.
Something else that's rather cool is that since the scanners are at each pixel, you could in a sense have a multi-touch screen. We could expect to see these screens commercialized as early as the first half of 2008.
Sharp's LCD and Scanner: An Integrated Sensing Display? [via macrumors]