Sharp offers new iPod docks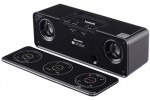 This week saw new iPods unveiled from Apple and accordingly we are getting a slew of new iPod accessories from cases to new iPod docks. Sharp has announced two new iPod docks that are designed for music listening on the go without needing headphones.
The two new docks are the DK-AP8P and the DK-AP7P and they allow users to play music back directly from any iPod or iPhone and recharge the device at the same time. Each dock weighs less than 1.6 pounds and has 2.1 channels with premium sound.
The docks fold closed when on the go for protection and the AP8P has a magnetic cover. The devices are good for six hours of use per charge and an AC adapter and a soft carry case are included. Both of the docks are offered in piano black finish with the AP8P selling for $189.99 and the AP7P selling for $129.99.