Sharp LC-52LB3 & LC-46LB3 AQUOS Quattron 3D LCD TVs Unveiled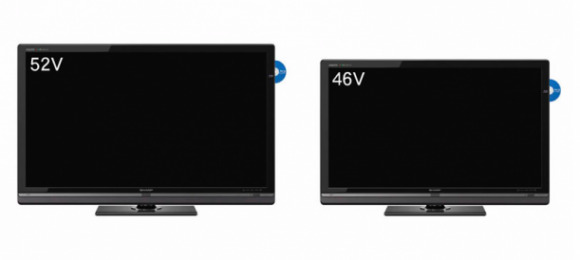 For TV manufacturers, getting the best quality picture to the consumer is a top priority. For Sharp, they've tried to reach that goal by introducing TVs with the Quattron technology, which successfully adds a fourth color (yellow) to the standard Red, Green, Blue. The result is a sharper image, and better colors on the screen. The same technology is now going into their brand new LC-52-LB3 and LC-46LB3 AQUOS Quattron 3D LCD TVs, which were just announced by the company.
Both sets have the same features. Their only difference is their size and pricing. Sharp managed to include a Blu-ray recorder, which they've built into the sets along the side. The Blu-ray recorder is 3D-capable. If you decide to drop your hard-earned cash down for the new 3D sets, you'll be getting full HD resolution, and a contrast ratio of 5,000,000:1. You'll also, obviously, get the Quattron technology, which should offer you a sharper, and more color-rich experience, for both 2D and 3D viewing.
You'll find one USB port on the sets, and BDXL compatibility. The LCD TVs also feature LED backlighting. Sharp isn't coming clean on when we should expect these two brand new Quattron series LCD TVs internationally, but they are launching in Japan on November 15th. If you're in the area around that time and looking for a new TV, then be ready to drop roughly $5,050 for the 46-inch model, and $6,000 for the 52-inch version.
Press Release
Sharp Corporation will introduce into the Japanese market two models in the new LB Series of AQUOS Quattron 3D LCD TVs. The LCD panels in the LB Series (52V- and 46V-inch) use Sharp's proprietary four-primary-color technology, and both models feature 3D-compatible Blu-ray Disc (BD) recorders.

The LCD panels in the LB Series use four-primary-color technology developed by Sharp based on its proprietary UV2A technology*2. This technology adds Y (yellow) to the three RGB (red, green, blue) primary colors and significantly improves light utilization efficiency to provide a brightness approximately 1.8 times greater*3 than conventional three-primary-color LCD panels, enabling users to enjoy vivid, impressive 2D and 3D images. In addition, these models are equipped with a new Quattron Pure Mode that automatically optimizes high-definition images to match the four-primary-color technology, resulting in smooth, natural reproduction of images from the built-in Blu-ray Disc recorder.

The built-in 3D-compatible Blu-ray Disc recorder enables viewers to enjoy Blu-ray 3D™ video using a single unit. Plus, these recorders are compatible with BDXL™*4, the new format for multi-layer recordable Blu-ray Discs, and can record up to approximately 87 hours*5 of high-definition TV programming in extended recording mode.

These models also offer functions for enhanced connectivity with peripheral devices such as digital cameras and mobile phones, and support wireless LAN adaptors.

Sharp will continue to expand its lineup of AQUOS Quattron LCD TVs featuring four-primary-color technology to meet the diverse needs of consumers.

Product name Terrestrial/BS/CS110° Digital High-Definition LCD TV

Nickname

Series name LB Series

Model name LC-52LB3 LC-46LB3

Dot count (H x V) Full high-definition (1,920 x 1,080)

Suggested retail price Open

Date of introduction in Japan November 15, 2010

Initial monthly production 5,000 units

Major Features

1. Four-primary-color technology faithfully renders colors to provide vivid, high-quality images.

2. Impressive 3D images with screen brightness approximately 1.8 times*3 higher than previous models.

3. Built-in Blu-ray Disc recorder compatible with Blu-ray 3D™ specifications.

4. Extended recording times of up to approximately 87 hours*5 for HD TV programming using new BDXL™*4 disc media.

5. ARSS*6 eight-speaker system integrates video and audio, plus Duo Bass low-vibration woofer.

6. Further expansion in the range of applications, including connectivity with digital cameras and mobile phones, plus support for wireless LAN adaptors (3D photographs taken using a digital camera can be sent wirelessly to the TV).

*1 Quattron is a combination of the word "quattro" meaning "four" in Italian, and the word "electron" in English. The use of four primary colors is a concept designed for LCDs, and differs from the conventional three-primary-color concept of light and color.

*2 Abbreviation of Ultraviolet induced multi-domain Vertical Alignment.

*3 Screen brightness when displaying 3D images compared to Sharp's previous technology (three-primary-color Advanced Super View LCD without FRED technology).

*4 Specification defined by the Blu-ray Disc Association (BDA) for high-capacity Blu-ray Discs.

*5 In 10X extended record mode using triple-layer Blu-ray Disc media. This level of performance for recording time is not guaranteed, and actual recording time may exceed or fall below the abovementioned time depending on the image quality of the video being recorded and other conditions. The stated recording time is typical and intended as a guideline only.

*6 Abbreviation of "Around Speaker System." Audio technology in which speakers are arranged around the screen.