Sharp foldable OLED display comes in clamshell form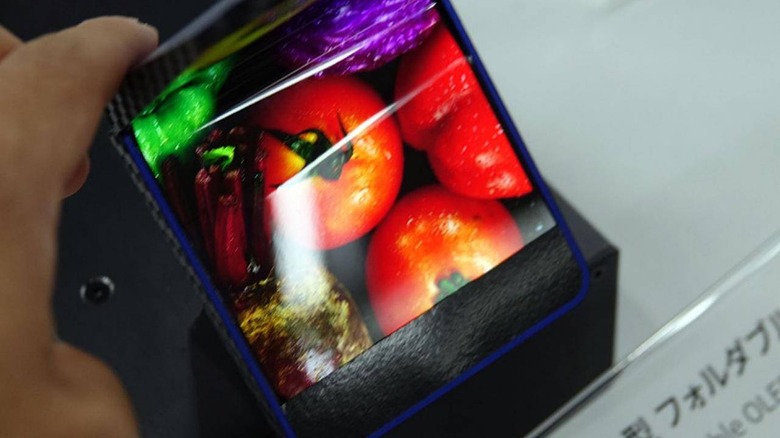 Samsung and Huawei have dominated the news when it comes to foldable devices for good reason. They actually have working and soon commercially available products that prove they exist. You might think, however, that their vision of how phones and tablets should fold is all there is. Sharp, however, is proving that there are others and it might hold the key to making a clamshell phone with a foldable display.
We've actually seen patents of flip or clamshell phones that either fold in half or fold out to a phone that's twice as long. Of course, they're just patents and one of the biggest obstacles to their implementation is a screen that does just that. Sharp, most famous for its AQUOS display technology has created exactly that missing piece.
Sharp's OLED screen measures 6.18 inches diagonally and boasts of a WQHD+ resolution of 3040x1440. More than just its folding properties, it also supports the DCI-P3 wide color gamut. Unlike Samsung's and Huawei's or even Xiaomi's foldable devices, however, this one folds vertically down to almost a square.
Sharp's info claims that the screen can bend up to a 3 mm radius, though it manages to hide that gap in within the rather thick case of its demo device. It has reportedly passed 100,000 bending tests, though its use of a plastic substrate will still leave those dreaded creases over time.
Sharp hasn't mentioned any plans to put this new foldable display to use. It doesn't have a timeline for commercializing it to sell to other manufacturers. Although Sharp has made its own smartphones, it has recently started winding that down to a few models per year.