Sharp Announces 7-Inch MEMS-IGZO Tablet Coming 2015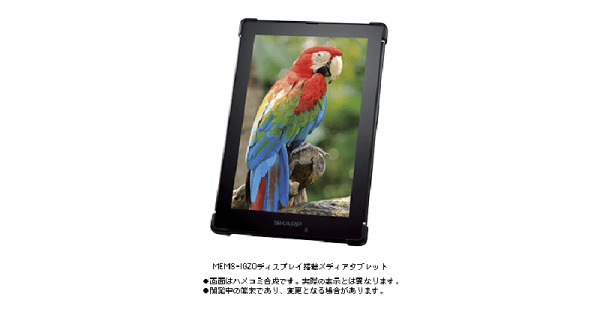 Earlier than the projected 2017 launch, Sharp has just revealed that it has a tablet ready for 2015 bearing a new mix of display technologies. Bearing Qualcomm's MEMS and Sharp's IGZO, this still unnamed tablet will boast of high-speed display on thin panels with almost the same energy-saving efficiency of e-ink in greyscale mode when needed.
Sharp's IGZO technology utilizes different materials from conventional LCD screens in order to produce thinner panel and push out pixels a lot faster. This type of display has already proved its mettle on Sharp's TVs and some of its high-end smartphones. MEMS, on the other hand, is Qualcomm's foray into the display market. It is still quite new and has so far only been seen in action on Qualcomm's Toq smartwatch and practically nowhere else. Just last month, the two companies revealed the partnership that would give way to a MEMS-IGZO device for 2017, but apparently they're more ready than we, or they, anticipated.
What the marriage of MEMS and IGZO means is that displays can have high color reproduction and yet, at the same time, low power consumption. The latter will be quite evident in greyscale or black and white energy-saving mode. If that sounds a bit familiar, it's the very same benefits that Samsung has been advertising with its Super AMOLED screens on the Galaxy S5, Galaxy Tab S, and, more recently, the Galaxy Note 4. It is also advertised to have excellent visibility even under bright external light.
As to the tablet itself, it will have a 7-inch screen with a 1280x800 resolution. It will be powered, of course, by a Qualcomm Snapdragon 800 and will run Android 4.4 out of the box. There will be both LTE/3G and WiFi models and is noted to be IPX5 and IPX7 waterproof. The announcement notes that the tablet will be available around the first half of 2015, though no mention if it will be sold in consumer markets or in select corporate markets only.
SOURCE: Sharp