Sharkoon unveils QuickStore Portable USB 3.0 enclosure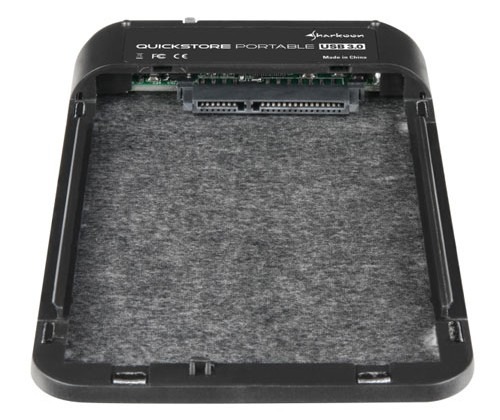 I have talked about some of the interesting external enclosures and other gear that Sharkoon offers in the past like the SATA and IDE Combo dock. Today Sharkoon has revealed a new external drive enclosure that lets you use a leftover 2.5-inch SATA HDD as a USB 3.0 external drive.
The enclosure is open on the top allowing the drive to be slipped inside and a lid covers the works for improved looks. The enclosure works with any 2.5-inch drive with a height up to 9.5mm. It connects to the PC via USB 3.0 or 2.0 ports.
The frame of the enclosure is made from plastic and the top of the device can be had in black, silver, or aluminum mirror finish. The enclosure measures 135 L x 85 W x 14mm H and weighs 55 grams with no drive inside. It is available right now for 28.90 euros from Sharkoon retailers.