SGI unveils Octane III desk side supercomputer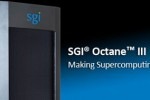 Supercomputers are large machines that occupy large rooms packed with cabinets holding numerous processors, lots of storage, and lots of RAM. These types of supercomputers are used for research and all sorts of scientific endeavors. A company called SGI has announced a new computer that sits at the desk side that it calls the Octane III Personal Supercomputer.
The Octane III is an office ready machine that uses normal wall outlets and measures one foot x two feet and is whisper quiet. The low noise output of a high performance computer is a big deal for anyone who has worked in the office with a large server with lots of fans inside.
The machine permits up to 80 computing cores and nearly 1TB of memory. Configurations are available using NVIDIA GP-GPUs and up to ten dual-socket quad-core Xeon 5500 nodes. The machine can also be had in configurations with Xeon 3400 nodes of 19 single socket quad-core CPUs and 19 single socket dual-core Atom processor nodes. Pricing for the Octane III starts at $7,995.