SFLC files suit against Best Buy, Samsung, Westinghouse and more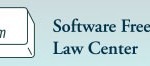 Lawsuits seem to be unending in the technology world. The latest suit names Best Buy, Samsung, Westinghouse, and 11 other companies as defendants. The suit was filed by the Software Freedom Law Center (SFLC) in New York City.
The SFLC is a non-profit firm that provides pro-bono legal services to free and open source software developers. The suit alleges that the 14 named defendants are guilty of copyright infringement for using the BusyBox software against the license agreement.
The defendants are selling products that use BusyBox software in violation of the GNU General Public License version 2 (GPLv2). BusyBox is Linux software that runs on household devices including Samsung HDTVs and a Best Buy Insignia Blu-ray player. The law firm says it has tried to resolve the conflict and the suit is a last resort.