Setting the Mood Beams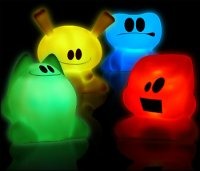 The night light gets a makeover with Mood Beams. The third series is available now and they are sure to cast a happy glow on an otherwise gloomy night. These bright, colorful creations are perfect accessories to any bedroom or office.
While it's look seems to be geared toward children I'm sure many adults will pick up a set for themselves. The have a range of settings for your entertainment. While Heartbeat and Rainbow give off cute and cuddly thoughts, Strobe, Color Dance, Color Hold, and Sleep are more aptly named.
This series of Mood Beams comes in a set of four, though you can buy them individually. However, who would want to break up the gang? Peppy, Chipper, Gloomy and Dizzy retail for about $20 a piece and $70 for the set.
Mood Beams Series three [via Coolest-Gadgets]