Sergey Brin talks Google Glass at TED conference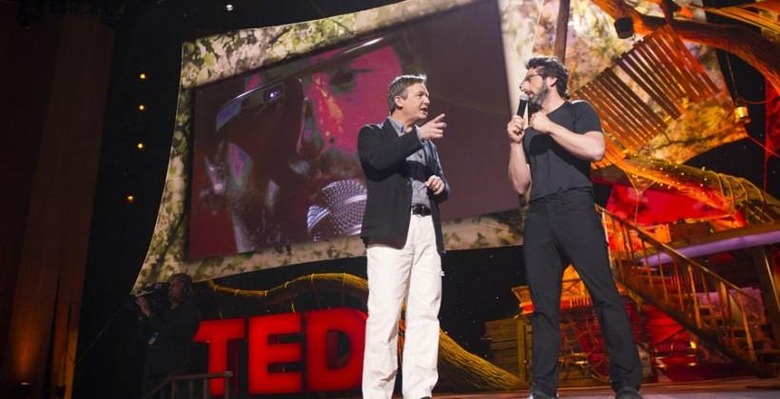 Today, Google co-founder Sergey Brin spoke at the TED conference held in Long Beach, California. There, he discussed Google's latest gadget, Google Glass. He praises the many features Google Glass has to offer, as well as its ease of use. He states that Google Glass will help him realize the dream he had when he helped create Google 15 years ago. Though along with the praise, he does make a few statements that are a tad bit offensive to smartphone users.
At the conference, Brin talks about his dream. He states, "When we started Google 15 yeras ago, my vision was that information would come to you as you need it." He didn't want people to have to search for the information they want. In a way, that dream is somewhat realized with the "Google Now" service that brings smartphone users (with Android 4.1 Jelly Bean) the information they want or need without them needing to do a search. Weather, traffic reports, news stories, nearby events, and other information is brought to them instantaneously.
However, Brin, didn't want his dream to come in the form of the smartphone. In fact, he believes that the smartphone is emasculating. He made statements like, "Is the future of connection just people walking around hunched up, looking down, rubbing a featureless piece of glass? It's kind of emasculating. Is this what you're meant to do with your body?" He went on to say that cell phone usage in general is an addictive habit, and that if he were a smoker, he'd smoke instead. "It'd look cooler."
Brin believes that Google Glass will be the project that will help him realize his dream. He may have made those statements just to promote Google Glass as a must-have tech accessory, but there is some truth to his comments. It is a bummer being surrounded by a group of people who are all hunched over their smartphones instead of socializing, but at the same time, you're essentially glued to a display of distracting information while using Google Glass as well. I guess the perk is that you're not hunched over?
[via TED]