Sensoria Socks technology aims to prevent injury before it happens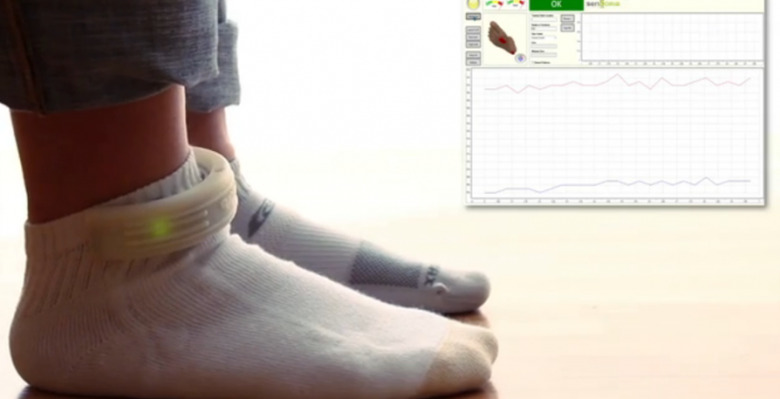 As wearable computing technology continues to improve, companies are looking for more and more ways we can use the data received and technology at hand to better products, and ourselves. With Sensoria Socks from Heapsylon, they are using new technology to not only track fitness like the Nike FuelBand and others, but also prevent injury before they happen.
Sensoria Fitness and their new Sensoria Socks is a patent-pending wearing technology that aims to do exactly that. Bring an entire new level to our fitness and daily lives, as well as help with sports athletes and injuries. Products on the market like the Nike FuelBand, FitBit, Jawbone UP and more all track steps, speed, calories, and more, but imagine a product that can track weight distribution on the foot as you stand, walk, and run. Sensoria Socks rely on sensor-equipped textile materials, as well as the accompanying band pictured below.
With more than 25 million runners in the US alone, more than half are prone to some sort of running related injury or pain, and this isn't even counting other athletes. Instead of dealing with injury we should be looking at ways to prevent it before it happens. This is where Heapsylon come into play. Sensoria Socks can identify poor running types, then using a custom designed app to coach the runner to reduce those tendencies, thus reducing the risk of injury. Then like any other fitness apps runners can benchmark and analyze performance, limits, distance and more.
According to Heapsylon and their demo when an injury or issue does happen, Sensoria can also track patient adherence, progress and much more. The accompanying application will sync the data over Bluetooth to your smartphone, letting users track anything and everything with this new technology. The app as mentioned above will show poor running techniques, but everything else will be available too.
Their anklet tracks activity type and level, heart rate, blood pressure, breathing rate, then relays this to the app dashboard to show how far, how fast you run, calories burnt and more. Even those with good technique can study and learn better habits, reach higher goals, and train harder without strain.
The idea behind wearable computing for more than just fun (read: Google Glass) and really opens the door for many different things such as Sensoria Socks. We're hearing they'll be available later this year and will help runners and athletes dodge and prevent injuries, and up their game at the same time.