Sennheiser HD1 wireless earbuds launch with 10-hour battery life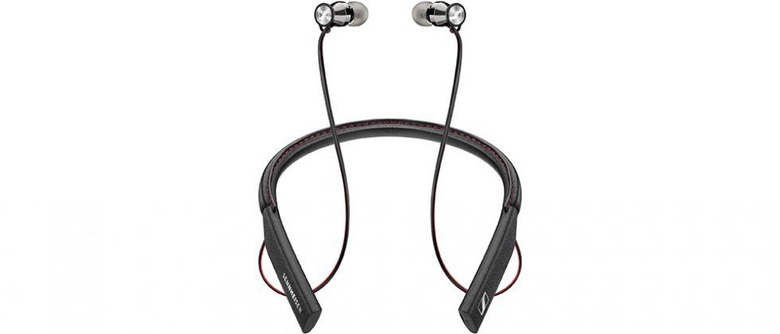 Sennheiser, on the heels of its intriguing earbuds for recording binaural audio, has unveiled a new pair of in-ear headphones called the HD1. These earbuds are wireless thanks to Bluetooth 4.1; they feature Qualcomm apt-X, support for the AAC codec, and the neckband design that has polarized users since its first arrival on the market. Custom machined components, in part, contribute to a high sound quality.
The Sennheiser HD1 earbuds feature customer machined stainless steel in-ear sound tunnels, according to Sennheiser, for 'acoustic precision.' This is joined by a three-button remote and an integrated microphone for headset functionality, all of which are embedded in the neckband component.
Though they're primarily marketed as earbuds, these headphones do have the kind of headset functionality modern users want. This includes support for three-way calling and the ability to connect to up to two devices simultaneously. There's also NFC for fast pairing. Incoming call alerts are given in the form of a vibration.
As far as designs go, Sennheiser says the neckband is ergonomic and, of course, designed to fit around one's neck. The neckband has stitched nappa leather for comfort. The ear pieces, meanwhile, include four adapter sizes. Other materials include a chrome finish, stainless steel, and polycarbonate, which is resistant to impacts. The headphones launch this month, but pricing wasn't stated.